I rarely drink green Taiwan oolong. I get dizzy often enough from drinking this stuff that I tend to avoid them. I don't know why that's the case, or why I am more sensitive to this stuff than young puerh, which should be equally hard on the body. But sometimes there's just no explanation for this sort of thing. I used to drink a fair amount of this stuff, as well as green tieguanyin, but nowadays I almost never drink either. Part of it is because I got bored of them, but part of it is because my body doesn't like them very much anymore.
The tea today is from Aaron Fisher, who gave me some of this when I left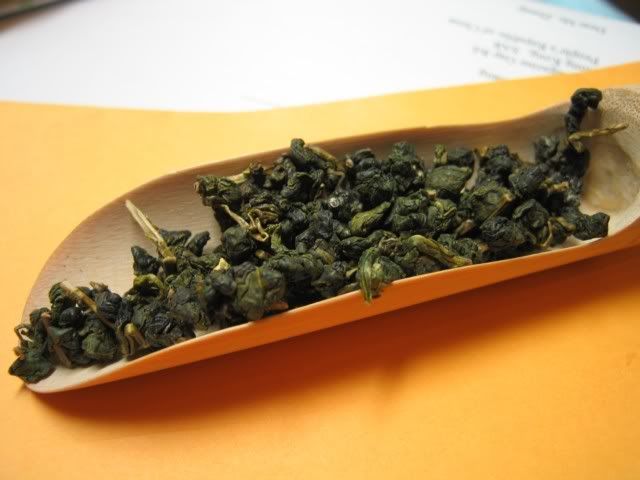 I can't really remember what part of Taiwan this is from. I think he got it in Lugu in Nantou, but I can very well be wrong.
The tea brews a typically neon yellow/green liquor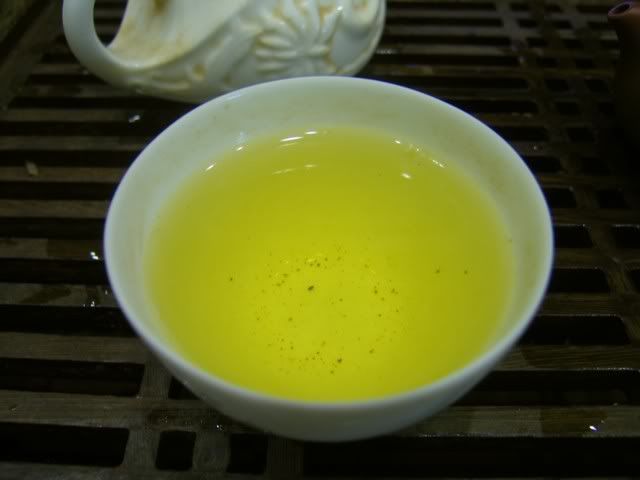 It is actually one of the better light oolongs I've had recently. It's floral, but not too much to the point where I feel it's artificial. There's obvious qi. The tea has a nice aftertaste — at one point I felt like it was sort of apricot like. It goes for many infusions. I rarely like light Taiwan oolongs. This one isn't bad. I told Aaron as much when we drank this at his place, and he generously gave me some to take home.
That said… I only need to drink this sort of thing a few times a year to get my fill. After a while, the grassiness (of which there's still plenty) and the sort of one-dimensional quality to this sort of thing bores me. I know many enjoy the high floral qualities of such teas and find many nuances in them that are perfectly enjoyable. I think my tastes have changed and really no longer find these things attractive. Perhaps I drank too much of it during college and am now recovering.
The leaves are quite beautiful
Althogh — only the left one is this tea. The right hand side bud-leaf system is yesterday's puerh. You can see how the oolong is no smaller in size than the puerh leaf. The puerh leaves eventually grow to a larger size, of course….
By the way…. I hope all of you in SoCal are ok. The fires look really bad.