This tea looked pretty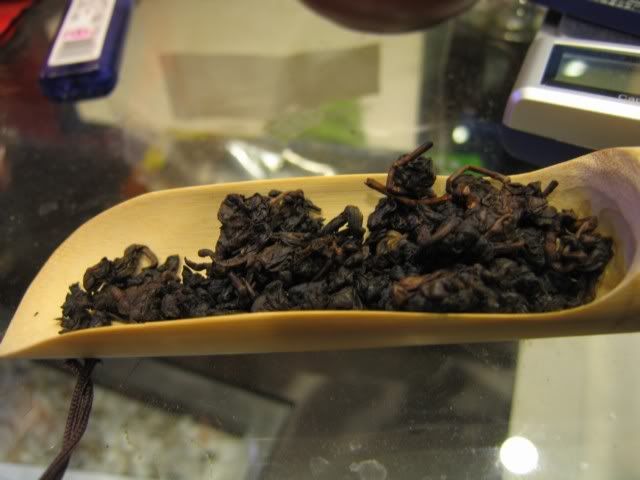 I bought it today at a shop near where I was running an errand. It's one of those grandpa shops — looks awful inside, and has lots (I mean lots) of random stuff accumulated over time. I figured they might have some old stock of oolongs — and they do. There are two, and I bought a bit of both. The shop owner said this tea is 30 years, and it sells at a moderately high price. I didn't buy the 30 years claim, but the tea is oh so beautiful. It's a rich, dark red, shiny, oily… looks great. The tight rolling perhaps indicates a later date than the "30 years" claim. That's not a real concern.
It yielded a dark liquor as well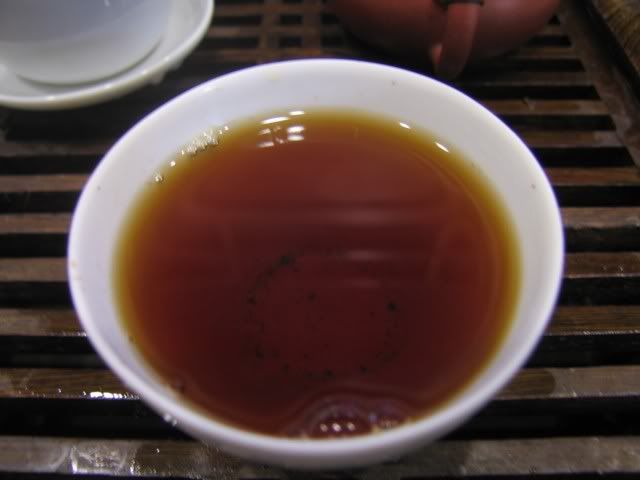 It's thick, it's aromatic, it's got a good finish. The problem is… the tea is sour 🙁
It's not deadly, because the sourness comes on later, and isn't the all-powering, all-covering sort of sour. Instead, it's just somewhat sour, and the sourness happens when the tea (liquid) has had a little time to cool down. When piping hot, just out of the gaiwan, the tea is not sour at all. After a sip or two, it starts showing up. When cooled down further, the sourness is more apparent. I am not sure the reason why that would be the case, but …. it's what I found.
It's a shame, because otherwise the tea exhibits good aged qualities, but I don't think it is nearly as aged as 30 years. The tea itself was pretty high grade, and tastes that way with enough complexity. Sourness could be due to a few things, but it generally has to do with moisture, or so I was told. This is perhaps fixable with some proper treatment in the roaster, because the sourness does go away after a while. If I brew the tea lightly, it might not even show up at all. In fact, that's I think how I'm going to drink the rest of this — brewed light, maybe even in a cup with water added, and see how it turns out. In a gaiwan with a heavy hand, it's not pleasant enough, certainly not for the price.
This is what the tea looks like when wet…. still beautiful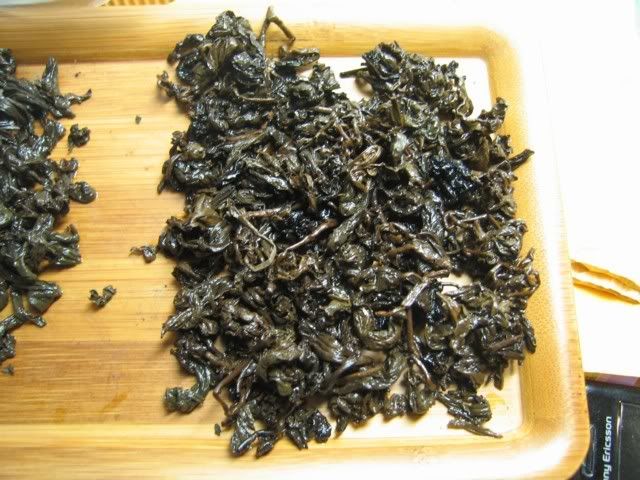 Compare it to yesterday's cheap baozhong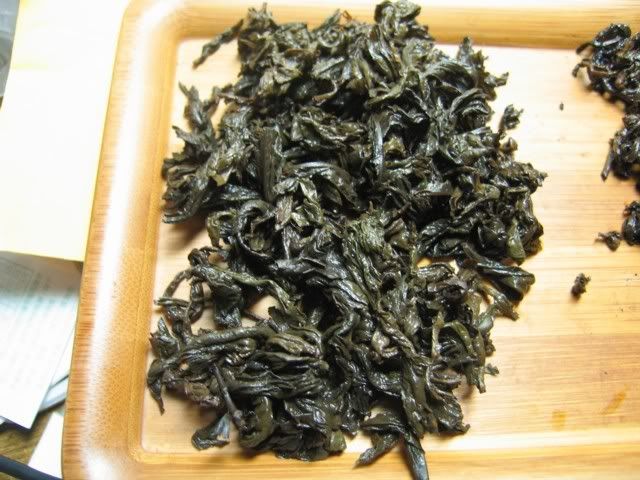 You can see there's a difference in the hue of the leaves, and obviously, baozhongs are not tightly rolled like this tea today. Still… in terms of aged oolong, this one has failed.