This Meghma oolong is a sample I got courtesy of T Ching. It is a Nepalese oolong that has been mentioned on the whimsically named Another Tea Blog. Phyll's blog also has an entry on his tea, although judging by the pictures, it's not the same thing I got.
T Ching is quite generous with the amount given…with about 25g in the bag. It's nice that way, because that allows me ample room for experimentation. Sometimes a 5 or 10g sample just won't cut it because things can go horribly wrong on the first try, and with that little tea there isn't enough to try again.
The tea, when dry, is tippy and a little cut up. One thing I've noticed about oolongs from the Indian subcontinent is that they generally do not have "one look". What I mean by that is whereas a Chinese oolong often will look very uniform within a sample in terms of colour and processing, oolongs from the India and Nepal seem to often have a bit of variation in both the colour of the leaves and the shape. It's not as obvious in the picture here, but when looking at the bag of the sample through the clear plastic, you can see how it varies a bit within the sample itself.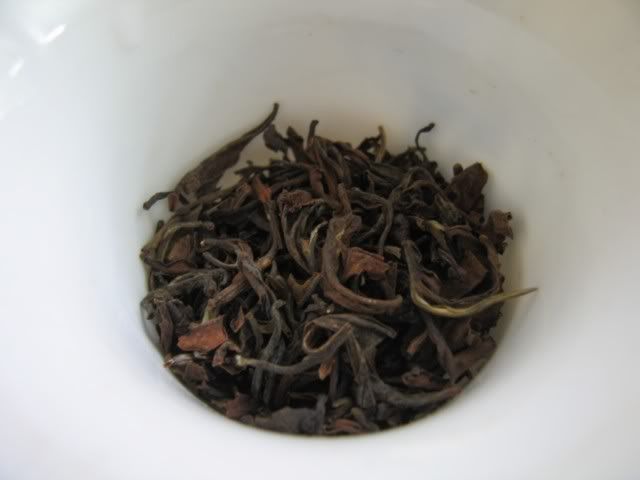 Much of the Indian oolongs I've had hailed from the Darjeeling area, which is in the same general vicinity as Nepal, Sikkim, and Bhutan, in the foothills of the Himalayas. What I've found so far is that what they do, they do quite well. There's a penetrating aroma when first drinking it, and it could linger on the tongue and near the throat for quite a while after swallowing. The flavour doesn't change that much throughout the different infusions, as I drink them using a gaiwan, and so it could be a little boring when the flavours weaken after a few infusions and they taste more or less the same. They also sometimes taste just like a lighter or a slightly different version of what we normally know as Darjeeling tea — first or second flush red tea (hongcha, black tea in English parlance), depending on the case, but as they are sometimes rather green anyway (at least the first flush) I have always wondered if they could be called red tea at all. In that sense, I wonder if the whole oolong process has really done much to the teas themselves, or if they are merely naming it according to what they do and what they have done all along? That, only a producer could tell me.
This tea in question is a little different from the above. To start, it has more up front sweetness than I've encountered so far. The first two infusions of this tea yields a sweet liquor, followed by a more familiar Darjeeling-esque flavour. The aftertaste in this case is weaker than what I've tried — less penetrating and not as strong. Since I used a good amount of leaves, I don't think that's the issue. Then, later on, a maltiness creeps in — what reminds me of a Yunnan Gold type of taste, which Alex on Another Tea Blog also noted. In fact, my last infusion, which I let steep for quite a while to see what the tea does when oversteeped, tastes remarkably like a Yunnan Gold of some sort – if sight unseen, that would have to be my guess.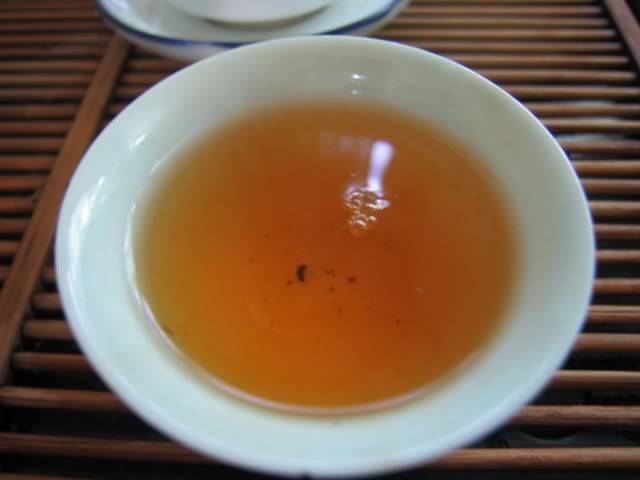 This is when it's still in the oolong phase.
Is it the high oxidation that caused this? I'm not sure. So, the tea starts out behaving like an oolong, and ends up like a Yunnan Gold. Pretty interesting, I'll give you that. I will have to try it some more to see what happens to it if I use more or less leaves, but this is a curious tea, if nothing else.
The leaves are remarkably red. High oxidation, methinks. There's a greenish tint, but it's redder than most oolongs — closer to Oriental Beauty, perhaps.