Yes… aged white tea.
My girlfriend asked for white tea a few days ago, so I dug into my containers of tea looking for something. I found it… a canister of tea that has been sitting around since 2005. Conventional wisdom has it that white tea doesn't hold up, is it true?
Granted, the container I used is a pretty good one. It's got a pretty tight seal so air transfers was probably minimal. I used the gaiwan and filled it up with some leaves. Having water at off-boil and then cooled somewhat, I brewed the tea… which came our surprisingly good. I was expecting either something truly nasty (i.e. bitter and stale) or simply bland — having lost much of the flavours. Instead, I got a tea that still retained most of its aroma. It was never really good white tea to start with — only middle of the road stuff from the Best Tea House. It was meant for easy drinking. It is, still, easy drinking. It did lose some of the freshness, I think, but it has also made it easier on my body. I don't think I take white tea so well these days for some reason, and perhaps having opened it since 2005…. it mellowed out a little?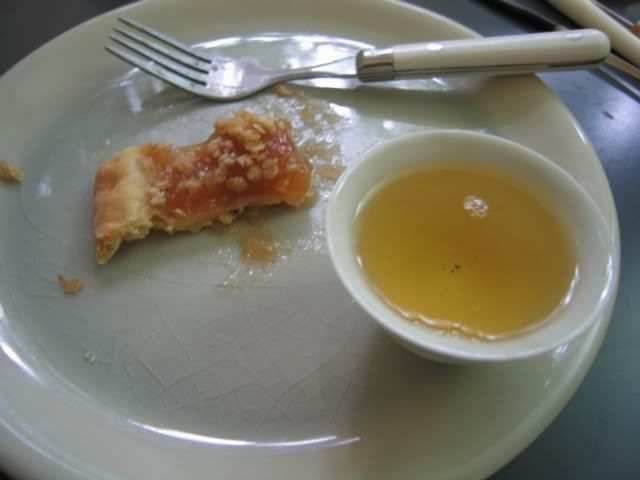 Having it with an authentic Amish apple pie (purchased from an Amish lady who came by our town to sell) they went together quite well. White tea and Amish pie in the middle of Ohio… not your typical afternoon tea, I suppose.
It does seem to me that most tea genres will age. How they age, of course, is a big question. Some do it well, some do it poorly. I still have some 2005 Longjing that I can perhaps try to see if it's still any good. The leaves are very yellow — having lost all the freshness by now, I think. Yet… perhaps removing the prejudice of "fresh must be better", there are things to be discovered there as well.