I've been drinking more teabags than I care to mention these days. It's really quite sad. Most of it is because I don't have time at home to brew my own tea — I am on the go and thus am stuck with some sort of take out tea or another. If I'm not in the Square, then buying teabag is the only way to get my caffeine fix.
Luckily, today was a relatively lazy day. I got a chance to brew my teas, and I picked out those Guangyungong bits to brew.
The stuff is really quite tightly compressed, and the first infusion of the tea looks weak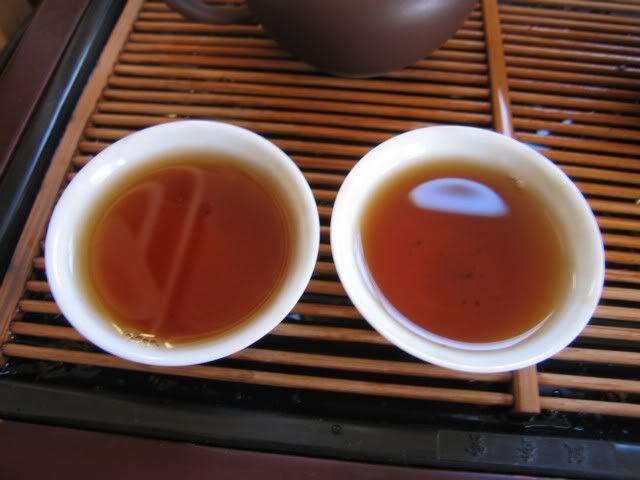 By the third infusion, it gets much stronger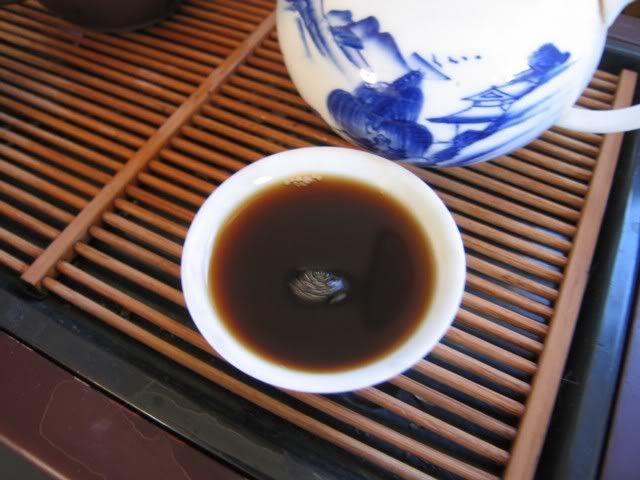 The tea has a taste of corn husk in it, with woody notes in the 3-5 infusions, and what my girlfriend describes as "generic aged puerh" taste. The corn husk returns later on, with a mild sweetness to it. There was a little bit of bitterness in the tea today, mostly probably because I added more leaves than I really should. Because of the hard compression, it's really hard to tell how much leaves I'm really using, and thus I'm prone to using too much.
Now I'm on about the 20th infusion, and it's still giving me stuff. It's a mild, sweet, and smooth tea now. It's a relaxing drink, even if not the best.