Well, where else did we go today but Maliandao again. Yes, that's right, we went to Maliandao again. Surprised? Didn't think so.
We started the day a little later today, and didn't get to Maliandao until after lunch. Today was easily the WORST day since I've gotten to Beijing in terms of air pollution. It was horrendous. The air really, really sucked. You couldn't see across the street without noticing the haze, and visibility on the ground was no more than 1km or so. You couldn't see the far edge of the Tiananmen Square if you're standing in front of Tiananmen. My eyes were burning when we were in the cab, because of all the air pollution. This was in really sharp contrast to two days ago when the weather was pretty nice, really.
So we were, needless to say, not happy and didn't feel terribly good when we got to Maliandao. The air was just nasty, so we beelined it to the Mengku store, where we planned on doing some purchases today.
We sat down, and they were drinking some cooked puerh. There was this guy from another store in the same tea city that was there chatting with them, and so we joined in. We had a taste, and it was actually quite decent. Not bad for what it's worth, and I enjoyed it. BBB, I think, was a little less enthusiastic. Then again, I wouldn't spend my good money buying that stuff, but I felt ok drinking it.
Then I broke out my 30 year old loose raw tea to let them taste it. I figured it might help in the bargaining, who knows.
They were impressed, interestingly enough, by the tea. While this is only middle-of-the-road stuff in Hong Kong that nobody would raise a serious eyebrow about, it seems like they genuinely thought of this as great puerh. The guy who was from the other store, a certain Mr. Li, kept going on and on about the tea. The manager of the Mengku store first played with the dry leaves, and looked at the wet leaves more than a few times during the drinking process, each time remarking how the tea is originally pretty high grade, and the storage was excellent. I guess this made me feel better about bringing it, and I at least got a hint of why some tea friends in Hong Kong are so generous in sharing — they like to know that they've got the goods.
So after about 20 infusions of this tea, we started the bargaining. BBB said I'm a bad bargainer afterwards, as I did not get the 40% off that we hoped to get. Instead, it was more like 25% off. I think I might have been too affected by 1) the prices of puerh in Hong Kong, but more significantly 2) the price I was quoted for the 2002 Mengku cake at a different store a week and half ago. By that price, I had lowered the purchase price to about 35% of what they asked for. Oh well.
So we bought a total of two tongs of the 2002, and 2 of the 2000 Yuanyexiang. Pictures to follow at the end.
Then we walked around some more, first going to the teaware place where I got the gaiwan for my cousin (the green one). BBB looked at the stuff, and thought about getting 4 cups, a fairness cup, and a gaiwan, but the quoted price was 185, and all they were willing to go down to was 180. He was not happy, so he didn't get any of it.
We then went to the store where the owner was drinking my 30 year puerh with me. It was actually a tea drinking club — where you can join as a member and then drink some tea there while chilling, basically at a much discounted price than when you compare with, say, teahouses in the city. Then again, the environment there is not very nice, and the lighting very harsh.
We had another cooked puerh there — better than the one at the Mengku store, I think. It was fuller and rounder, and at 10 years old or more, for obvious reasons. Meanwhile, we looked at the puerh on offer there. There was one that caught my eye — a Banzhang King, and decided to give it a taste test. The tea was quite good — very good, in fact, although the price was a bit high for a new tea (more than any of the Mengku stuff we got). I might go look around to see if I can find it, and if not…. maybe try my best to get a good bargain there to buy at least one of those. I really liked the way it felt. It was strong, got a nice cooling effect down the throat, and I think better than the Xizihao Banzhang cake, although I need to taste my sample again to be sure.
So we walked without buying anything. Then we wandered around, and I suggested we go to the Wuyi tea store that I visited last time. We went in, and tried two different DHPs and an old aged Wuyi. The first DHP had AMAZING cha qi. The last time I felt such a strong cha qi was when I drank the Hongyin with YP. It went up my back and ran throughout my body. It was strong, but the tea itself is actually only a low fired tea for DHP standards. It died out a bit fast — about 4-5 infusions and it was getting weak, but the cha qi was good.
The second was much higher fired. The rock taste was very prominent, and quite nice. No comparable cha qi to the first one, and the price, I think, strongly reflects that.
The third is a very nice aged Wuyi, supposedly 8 years old. I think it was aged together with a bit of chenpi, which is aged, dried orange peel. The Best Tea House does that with some of their aged oolongs as well, so I think it's common practice. The taste is very nice, fruity, soft, supple, subdued. They said it's not for sale, but they did quote a price when asked, so I suspect you can probably buy in very small quantities.
Just when we were leaving, we saw the proprietor of the store coming back with a plant — a Dahongpao plant they took from Wuyishan. It's a bit pathetic looking, mostly because it's dried up and sort of not doing too well in the Beijing weather and probably all the traveling
I took a pic.
We were really hungry after the tea tastings, and ended up in a hot pot place.
Anyway, you've all been waiting for the teaporn, so here you go
The 2000 Yuanyexiang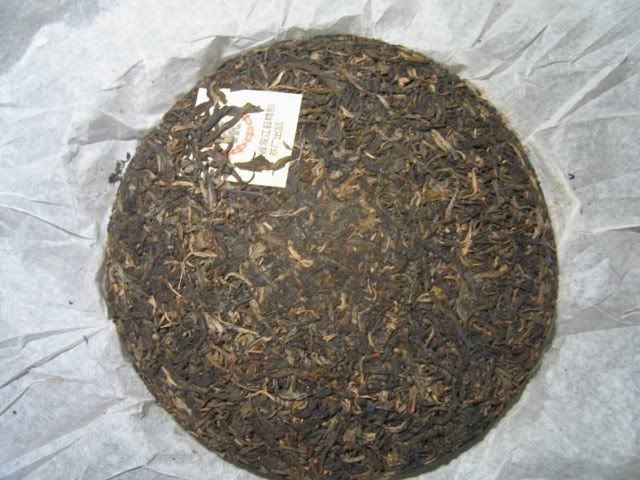 And the 2002 Mengku Wild Tea Bing