I'm a fan of sampling, and I think it's a good way to learn about teas. Whether it be greens, oolongs, puerhs, or whatever, sampling gives you breadth that you otherwise won't get, and exposure to things that are otherwise hard to get (imagine having to buy 357g of something even if you just want to try). One of the problems with sampling though is this: what do you do with the leftover?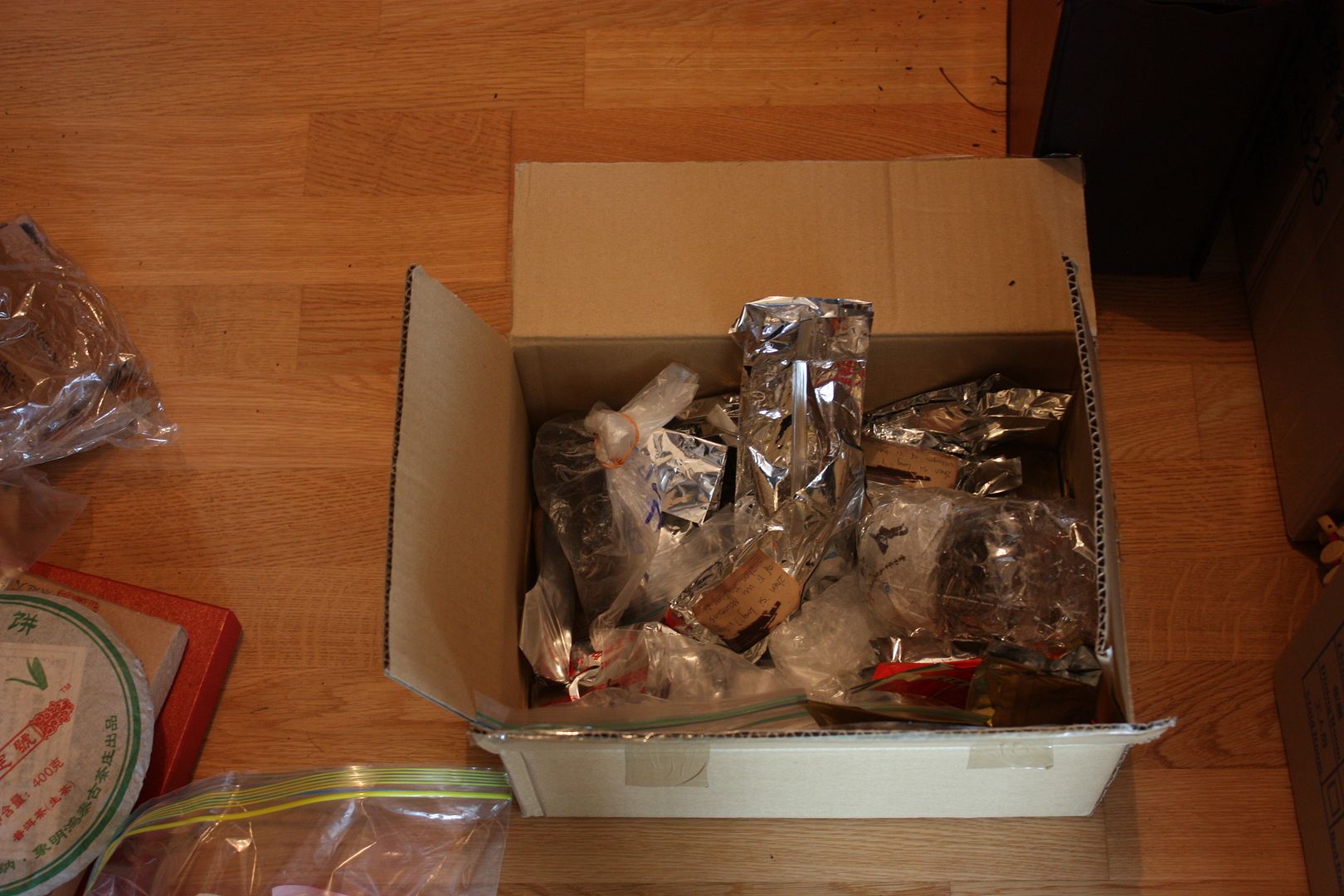 Every time I move, it seems, I create a new box for samples that are leftover. Now I have four of these things (the above is just one of them). There are always, always, more samples to drink than time to drink them, and oftentimes the samples, if they are not very good, very memorable, or interesting, are never touched again. This leaves lots of small, open bags of tea that sit around, and eventually get collected into boxes, never heard from again. Since I moved back to Hong Kong and before this particular move, I don't think I ever took out those three boxes of samples I had sitting on the top shelf of my tea storage cabinet.
These samples come from three sources. The first are ones that I bought myself. You can see, for example, a lot of Yunnan Sourcing samples in this particular box. There are also samples given to me by friends, sometimes very generously. I am still sitting on some samples that I haven't had a chance to drink, sometimes because they're valuable teas and I don't want to waste them on an individual session. Then there are the worst kind – the ones that I get from vendors while shopping, for one reason or another. Sometimes it's because I want to try something, sometimes it's because they're pushing something, but inevitably, I come home with a little plastic bag, maybe try the tea, and then…. it's forgotten, with no labels, identifying marker, or anything. Two years later, I find it in a box, and I have no idea what it is other than the general type. Once in a while, with teas that look distinctive, I can remember where I got them, but that's not so easy when you're looking at a small chunk of some green leaves.
There's a good Chinese expression, "chicken rib", to explain this. Chicken rib (雞肋) featured in a story in the Romance of the Three Kingdoms, where Cao Cao, one of the warlords, was contemplating retreat and was brought some chicken soup, and he repeated "chicken ribs" a few times. Chicken rib represented the part of the chicken that was "tasteless to eat, but regretful to throw away". I feel that way when looking at a lot of my samples.