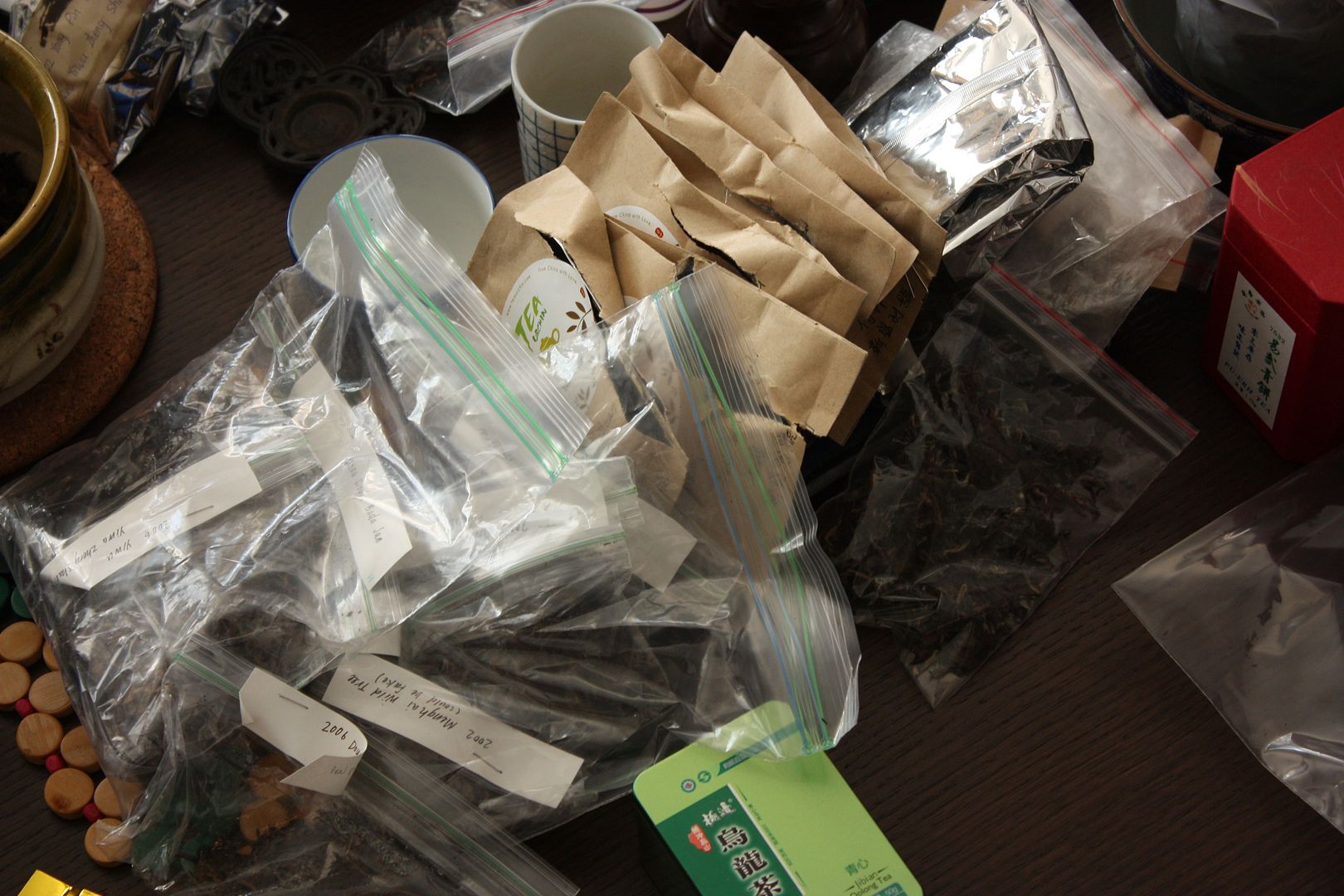 One of the things I often advocate for newcomers to tea drinking is to sample widely. Learning about tea is, on some level, not very difficult at all. It requires experience and an active mind to reflect upon and learn from the experiences gained. To gather this experience though, the only way to really do it is to drink a lot of tea. Reading about it or hearing about it really doesn't do much good, for it is only theory that lacks backing from practical experiences.
The practical problem with active sampling are twofold. The first is simple – samples are not very cheap, usually, and so it can actually be quite expensive when you buy a lot of them from different vendors. At a site like Yunnan Sourcing, you can easily drop a hundred dollars or more on a dozen samples, and that's before you have to factor in shipping cost. If you're not getting your samples for free, this can be quite a major expense on its own.
Then there is the more nuanced problem of what to do with the samples. It's quite easy to say that sampling widely will give you experience in tea drinking. In practice, however, that's not so simple. Of course, trying all kinds of teas will most certainly give you experience. However, it is experience on a relatively shallow level. Certain kinds of teas, such as really bad or really good teas, will probably manifest themselves quite readily. Others, however, are not so obvious. It is actually easier to try teas if you, say, cup them, but then it becomes work and the process is not very enjoyable. This is, ultimately, a hobby, and not a job (for me anyway) so taking the fun away like that is basically missing the point.
What instead happens is that some teas require multiple tastings to reveal themselves one way or another. Sometimes the first time you brew a tea it doesn't come out quite right not because it's bad, but because you are still adjusting to it. It helps when you're using the same teawares all the time, so that the only variable is the tea. In some ways, by doing so you're basically cupping the tea without cupping it – you're testing whether or not the tea is good for your style of brewing. Even then, however, a good tea drinker should be adjusting to the tea and trying to brew it as best s/he can, which means that the first try can come out horribly wrong. Cupping also has its own limitations, as it can tell you whether or not a tea is good, but the skill in bringing out the goodness still requires your active intervention – unless you're planning on drinking the tea grandpa style, the input of the brewer is an integral part of what makes a cup of tea. This is why I almost never write reviews anymore based on one impression (when I do write them anyway, which is getting rare too), as there are too many variables and is just not very reliable. Forming an opinion based on a few cups of tea is only reliable if it's really obviously bad or good.
Now, having had a lot of experience in tea does speed up the process of identifying issues and problems in an unknown tea. Right away, for example, it is possible to tell what kind of condition a puerh has been stored in, or whether an aged oolong has been reroasted, so on and so forth. It also helps compartmentalizing teas faster – you can basically draw on an ever expanding library of tastes and sensations and know what tea this is most similar to, and therefore what you can expect from it. Teas are never the same, however, and different people brewing the tea also yield different results. So, there's only so far you can go with the "scientific" approach. Trying to analyze teas based solely on aroma, appearance, etc, is only possible if you're dealing with industrial level generalities. Samples, therefore, are first impressions.
There is also knowledge that you can gain from drinking the same tea over and over again that you cannot from sampling. This may involve the tea changing on you – a traditionally stored puerh gradually losing its storage taste, for example. Or, it can just be that you start noticing nuances that were there, but were not necessarily obvious the first few times you try it. Or perhaps you experiment with different parameters, water, ware, etc. and notice that it performs differently under different circumstances. This type of knowledge is not possible if you only have 25g of a tea. It can really only come with drinking 200, 300, or even 1000g of the same tea. After a while, you get a sense of what to expect, and when the results don't meet expectations, then it becomes a learning moment. You just can't do that without a lot of the same tea. When I say "same tea" I also don't just mean the same kind of tea, such as a tieguanyin, but rather the exact same tea – from the same place, harvested around the same date, etc. Each batch of tea from a farmer is going to be slightly different, no matter the circumstances, once again complicating the issue.
The important thing of all this tea drinking and learning is not so much the drinking itself, but the critical reflection and evaluation that takes place simultaneously. Forget about what others tell you – what do you feel and think when you're drinking this tea? How does it compare with what you have tried? How does it challenge what you already think you know? No teacher can tell you any of this – they can point you in the right direction, but they can also lead you astray. My experience with tea teachers that I have encountered is that by and large they're interested in selling you tea, and as such they will tell you what will suit their current inventory of tea the best. Tea learning is, at the end of the day, a solitary experience. No one knows what you're tasting, so no one but you can teach yourself.
It is hard sorting through all this knowledge gained from tea drinking, and even harder to retain all of it. I found my early blogging efforts, basically writing down my impressions of the tea I drank every day, to be a worthwhile exercise – it helps me process what I've had and what I thought, and once in a while I go back to my own ideas back then and realize how I have developed as a drinker, as well as how a tea may have changed over time. Many of my earlier perceptions are flawed, if not outright wrong, or at least have been modified over time by my experiences since then. Writing about it constantly here helps me work through those thoughts. Of course, this can also turn into work, and when blogging, just like drinking, turns into work, it's no longer fun and you should stop. However, as Confucius said, learning without thinking is useless, and thinking without learning is dangerous. If you want to improve as a tea drinker, there's always work involved.