I just came back from a short trip to Salem, MA, where a good friend got married.  When you mention Salem, most people think witches, but in reality, witches was just a small part of the city, and the place's claim to fame for much of its history was a center for the old China trade, where they imported porcelain of all types, and of course, tea.  Salem is now home to the Peabody Essex Museum, which houses many artifacts from this once thriving trade route (if you're nearby, you should visit), and where the wedding took place.
So it is with a little irony that it was last night, in this town, that I had perhaps the worst tea I have ever encountered.  It's in a bag form, of course

Sorry for the poor quality — taken with the phone.  When you're at somebody's wedding, you can't really say "no, please just give me a pot of hot water, as I brought my own tea".  You take what you're given.  I needed something to wash down the rather decent but rich wedding cake, so, heck, I'll survive a tea bag.
Or so I thought.
The "Orange Pekoe & Pekoe Cut Black Tea" produced a "tea" that was rather acidic, more lemon juice like than tea, and utterly devoid of real tea flavour.  Of course, it's prepared by a coffee company — probably just a ploy to get people to stop drinking tea and instead, turn to the dark side of coffee.  It was a very nice wedding, and the food was excellent.  My wife said the coffee was all right as well.  If only caterers can do better tea — it really ought not to be so hard, even when you're trying to feed 150 people.
At least I should be pleased that it is a "Natural source of Antioxidants".  Now if only I drink this every day, I'll live to a hundred years.
This morning we braved the horrific New England mid-June weather of rain and wind and went to downtown Salem to look at some things, hoping in vain that I might find some old China trade antique.  The weather, however, was not cooperative, and we gave up quite quickly.  This was not before we found a place called Jaho Coffee Roasters & Tea Merchants though.  There were only a few customers, as I think the weather has deterred all but the bravest to go anywhere, but you can tell this is a place serious about its coffee.  They also have a lot of tea canisters lined up along the wall, but as anybody who's been to Teavana knows, that's no guarantee of quality.
Turns out their tea selection, while certainly not like, say The Tea Gallery, was not terrible either.  I ordered an Ali Shan oolong while my wife went for the more exotic coffees they have.  I like to order oolongs at teashops I've never been to — it's usually a pretty good indication of what their selection is like.  If the oolong is awful, the place can't be that good.  If the oolong is decent, it's probably all right.  If the oolong is great, well, it's promising.  Everybody can do good black tea, and green tea is really too much of a hit or miss.  Oolong is dependable… and less likely to be toxic waste.
The Ali Shan is what I expected it to be, light to medium fired, sweet, no hint of grass, which is good.  The only problem I have is with the teaware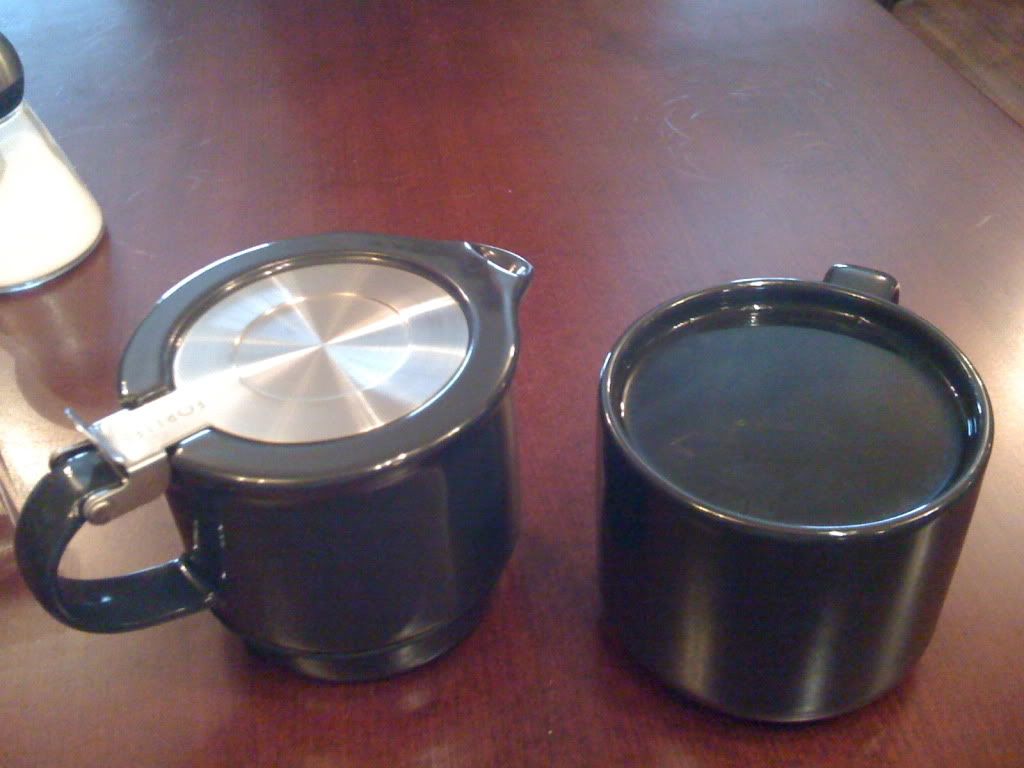 The same cup set as that other place I went to a few months ago.  I'm sorry, but this kind of cup, while convenient for drinks service, really isn't so good for tea drinkers.  The problem is you simply cannot tell how well brewed your tea is, and there is absolutely no indication of the colour of the tea.  I find that to be a very disconcerting thing, drinking a tea when I have no idea what colour the liquor is.  One of the pleasures of tea is its varying colours, from a light shade of green when brewing a cup of longjing to a deep, dark cooked puerh, the range of the visual pleasure of seeing that colour is an experience in and of itself.  Using a black cup completely obscures that aspect of tea.  Why?
I suppose the tea timer I was given with the pot is a bit of a remedy, to try to tell the drinker how long he or she might want to steep the tea, but it's still a poor substitute.  I don't think a coffee drinker would want to drink out of a cup that gives no indication of the colour of the brew, so why would a place that seems very serious about their coffee do that to tea?
Other than that though, no real complaints.  My wife described the coffee there as mingblowingly good.  I have no clue about coffee, so I won't try to pass judgment.  But I think if you're in serious need of some tea when you're in Salem, you can probably do a lot worse than going to Jaho.