First of all — the result of the last little question is in, and trentk, you should email me (marshaln at gmail).  Chaozhou, yixing, tokoname indeed — or some other variation of Japanese clay pot.
Now, yesterday was a nice day, so we had tea outside, with tea mistress in training handling the brewing duties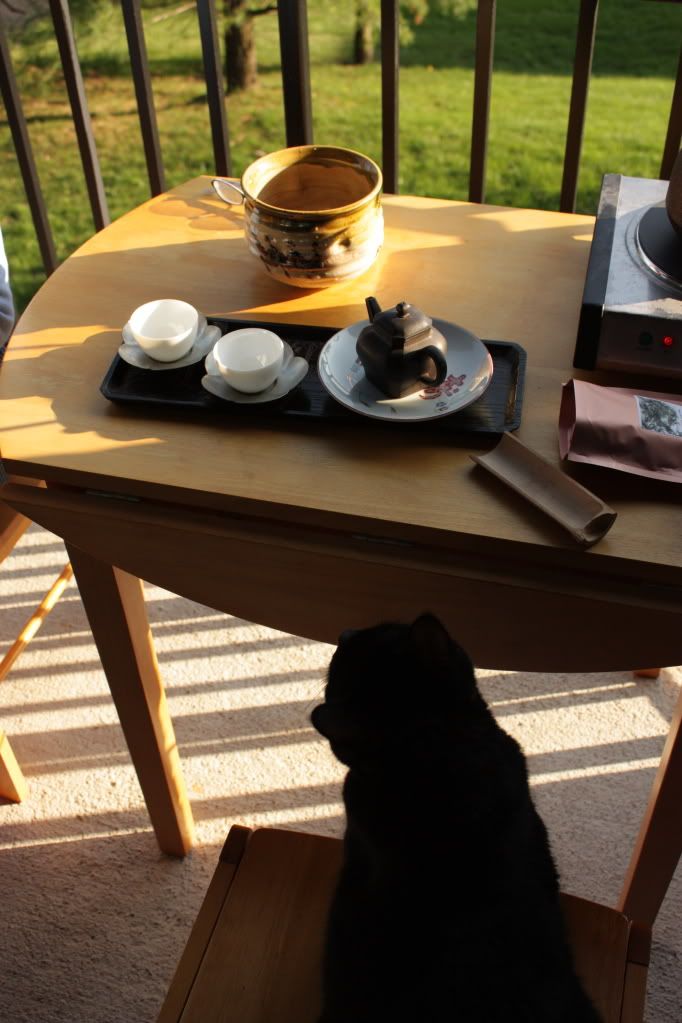 It was a good session, drinking some old Wenshan baozhong that I traded a little Japanese bizen teapot for.  This is somewhat roasty, but not too roasty stuff.  Nice aged taste.
Now, today, after dinner, we had the same thing, but I used a gaiwan.

I haven't touched my gaiwans for a long time, other than to occasionally brew something very casually using that large sipping gaiwan.  I thought I would make a video about using gaiwans — boiling it down to the basics, using as simple a process as possible.  So, I figured I need a little practice.
Hmmm, boy did I forget how teas taste with gaiwan.  No wonder I haven't used one in ages — it just doesn't work, at least not with teas like this.  I am not sure what exactly it is that makes it taste different — there are, after all, a lot of variables involved, but I can say pretty confidently that when I had the first cup, it tasted flat and lacking any depth.  I was not happy with what resulted.
So why use a gaiwan?  Simple, convenient, and functional.  As easy teaware goes, it doesn't get much better than a gaiwan.  As good tasting tea goes, however, I think a pot will beat a gaiwan any day.