Samples continue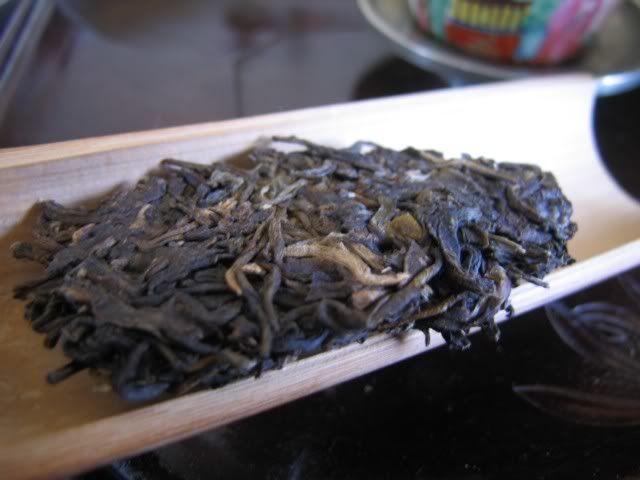 Sample 3, the bag says. One big chunk. Nothing too notable about the chunk. I threw it all in after breaking it up a little.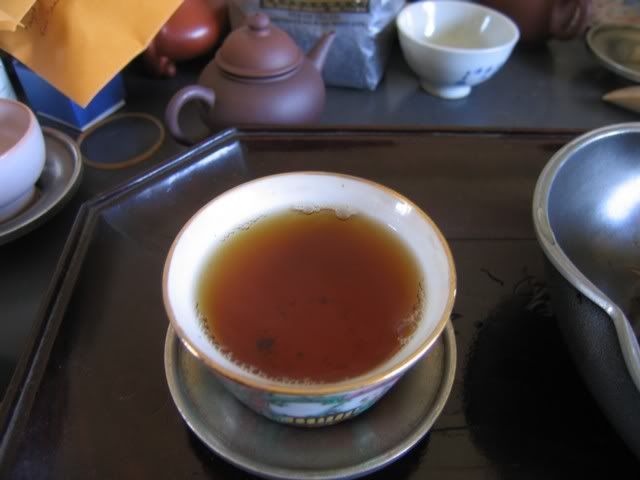 Brews darker than I expected. Then again, maybe the amount of tea (a lot) was a little much…
Tea is somewhat darkish tasting, bitter, but not too bad, a bit sweet, sort of nice. It's pleasant enough, although, now that I think about it, given the massive amounts of leaves, it is probably slightly underwhelming.
But then again, it's hard to say. I was told that this is actually the 2003 Henry HK "serious formula" cake. For $80 it's a little steep, but then, it's not that bad of a tea.
Sorry, the tasting notes must seem slim, but there isn't a whole lot to say about this tea….. or, now that I think about it, many of these youngish puerhs. They all taste very roughly similar, especially to someone like me who doesn't do a very good job of describing flavours (which, at any rate, are rather subjective and difficult to make much sense of).
So I will just let the pictures talk, although my hands are a little shaky these days it seems under poor lighting condition. I really ought to buy a tripod