Another sample from Will of the LA Tea Group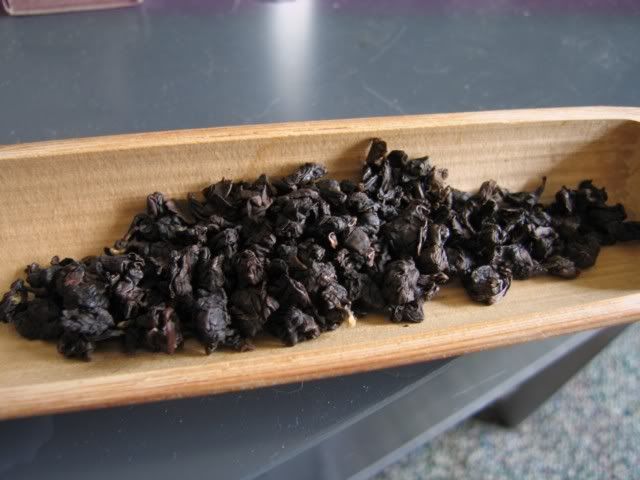 Sample A, it says. Dry leaves are tightly rolled, highly roasted oolong of some sort or another. Based on the look of the leaves, I'm going to guess Taiwanese oolong of some sort.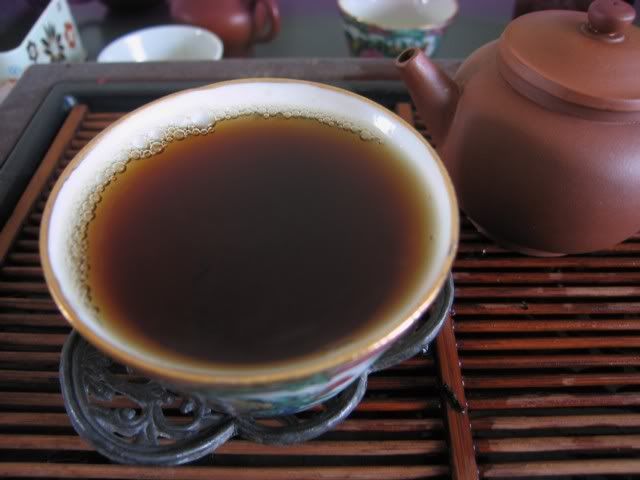 The tea tastes more or less like other very highly roasted teas I've had in the past — somewhat sweet, very roasty, with a bit of bitterness coming from the roasting or perhaps the tea itself. It's so roasted that you can't really tell what the tea's original character may or may not have been — it's just very roasty. No sourness though, which is nice.
Leaves are very stiff — not much to look at here. Most of them have barely unfurled after being exhausted by me, and that means a few hours of steeping.
This is, again, stuff that is often sold as aged oolong of some sort or another, priced variously from quite reasonable to extremely expensive. I think I've said this sort of tea is like cooked puerh (or heavily wet stored ones) — "aged" through an artificial process that approximates an aged tea, but does not really end up resembling the real McCoy. Then again, maybe this is just sold as highly roasted oolong, which is fine.