I opened this up today to drink, finally, after it's been sitting around for months and traveled with me.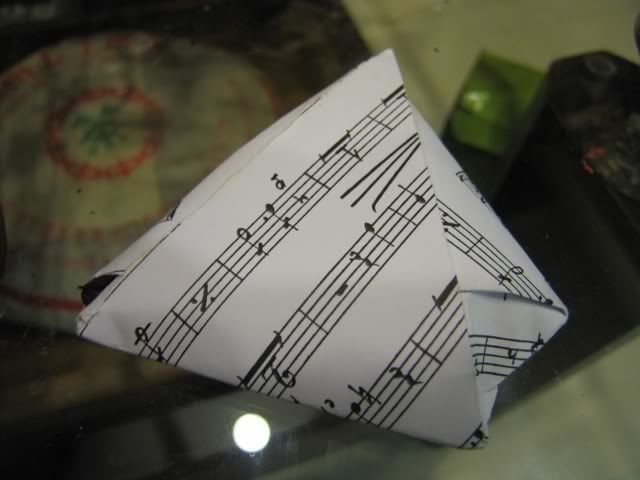 Action Jackson packed it in Shanghai. It's a cooked tea that she wanted me to try. It's surprisingly sturdy as a packaging — even though it's been in a luggage multiple times, it still kept all the tea!
Seeing the wrapping made me think of this question again – do people listen to music when drinking tea? What kind, if any? I first thought about this question on the subway listening to Philip Glass.. and wondered if any tea would go well with such music. I am not sure, especially since I usually drink in silence by myself.
These days, a lot of shops in China are starting to have guqin in the background or even live. It really started while I was in Beijing — all of a sudden many shops acquired one. After the cultural suicide during the Cultural Revolution, now people have finally gotten enough time and money to start worrying about something other than feeding themselves. Guqin works very well with tea. I wonder if others find music works or not.
The tea today was a little off. I'm not sure if the multiple trips in a luggage did some damage to it. The aroma of the leaves (wet) smell better than the tea tasted — it was a bit bitter for a cooked, a little off, and after a few infusions, a little sour. It's still an ok cooked, and I didn't really mind drinking it, but it wasn't the best out there, I'm afraid.
It looks just like most cooked teas
When it comes to cooked puerh, Menghai still works the best. While raw tea involves very little skill in making the cake, cooked tea has a lot of skills — and apparently, water is also an important factor. For example, Mengku factory had problem with their cooked tea (tasted sour) because the water they used wasn't good enough, and so they had to pipe it in from a faraway spring.
Still, I don't drink much cooked tea, and if I ever want one… I would rather drink a red (black) tea or a shuixian instead.