Somebody's response to my entry on Cha Dao (same as the one I posted here two days ago) mentioned how Darjeeling is rarely talked about, even though it is quite popular among tea drinkers. Indeed, I don't know quite why it is that us tea bloggers tend to be drinkers of Chinese teas. So in response to that… I thought I could dig up a darjeeling.
Unfortunately, the only thing I have easily available is something that I bought many years ago… almost… 7 years now, I think? It was purchased at T Salon of New York City. They have a website, but it's basically non-functional (everything is still "coming soon" except the chatty video) so I won't bother linking you. I should also mention that the last time I went there was at least 4 years ago, and I remember buying some basically stale tieguanyin. That, and the snotty attitude of the owner (the other saleswoman was nice enough) was enough for me to not go back again.
But I still have this tea. It's not drunk because I just really don't drink that much Indian teas in general, and between all the teas I have I rarely get to this little tin, almost forgotten among everything I have. I can't remember what they called it, but it's a first flush darjeeling, one of those lighter ones with green and red mixed in the colour of the dry leaf.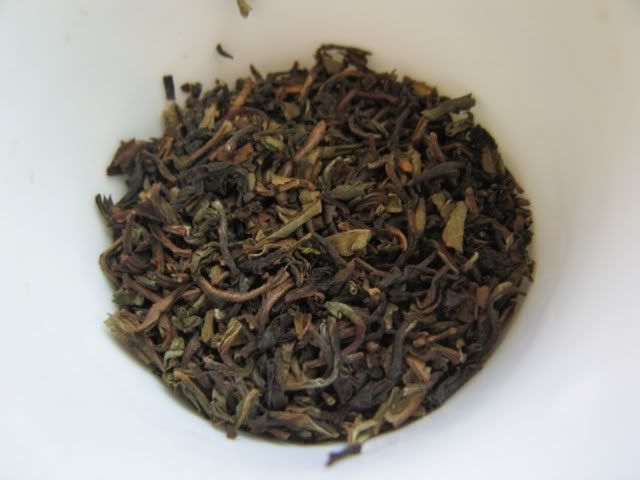 Perhaps it was a good idea I bought a tin along with the tea, because otherwise it probably would've lost a lot of the flavour by now. As it is, however, when I opened up the tin it still smelled strongly of the fragrance of darjeeling, and when hot water first hit the gaiwan that scent of a darjeeling, first flush… you can smell it distinctly. I must say that while there are many darjeelings out there, I generally only find the differences between first and second flush to be really meaningful. The differences among the different estates are generally quite subtle, and given some of the very high prices they charge, I'm not sure if they're worth all that much.
The tea is holding up well. The first infusion was brewed too strongly, even, and came out a little too bitter. I had to be quicker about it and poured water out of the gaiwan as fast as I could, basically. The tea then came out smoother and lighter, just right, with a long aftertaste that I like out of my darjeelings. I think when it comes to teas like this I'm rarely very picky… and they are usually pleasant enough. I still think, however, that indian reds are generally not meant to be brewed with a gaiwan, and when brewed that way it can get a little boring. Perhaps I should try this tea just in a mug tomorrow.
The wet leaves are typical…. chopped up, with a mixture of colours. It might've gotten a little redder since I got it, because I remember it being fairly green, but it's really too long ago for me to remember.