As promised, I actually tried the new cake I bought today.  Since I was talking about lighting and picture taking though, I decided to take another set of pictures in daylight to compare with the ones I took last time under artificial light.  Looks different again…
I broke off a piece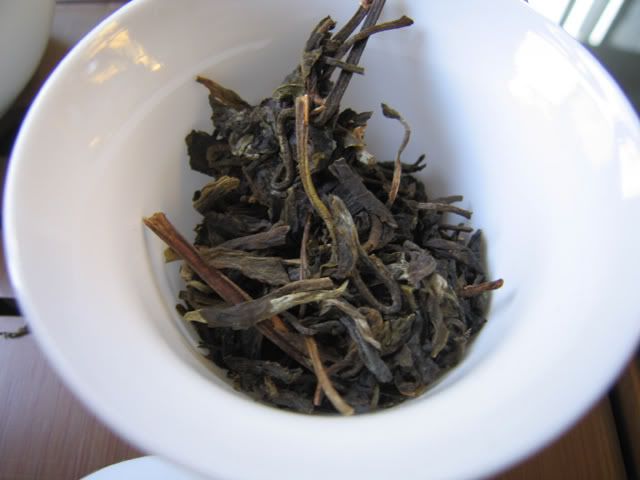 And I made the tea.  Jackson joined me today for the tasting.
The tea is smooth.  It brews up an orangy-yellow colour, and the initial taste resembles a Yiwu, but I think as it went on for a bit, I discovered that it is a little darker than a Yiwu.  Maybe it's more like a Manzhuan tea or something, I'm not sure.  That might also explain the cheaper price.  Whatever it is… it's not pure Yiwu old tree tea.
That, however, doesn't detract from the tea itself.  There was some smoke, which Jackson thought was a cigarette sort of taste, although I just think it's smoke (maybe because I've never smoked a cigarette?).  It went away after about two to three infusions.  The tea… tastes like…. tea.  It doesn't leave much aftertaste at the tip of the tongue, but it leaves a strong huigan at the back with a consistent feeling around the throat area.
What's most interesting though is that even though this is more or less a fall tea, the tea is VERY smooth… which was a little surprising.  I have known fall teas as more astringent than spring teas, but this one somehow defies expectations.  It didn't do the "astringent after five infusions" thing either.  It really only showed up around infusion 10, and even then… only a very mild sort of astringency.  Is that a good or a bad thing?
I worried a little about its processing, and wondered if they got rid of the astringency with oolong fermentation or something.  No, I don't think so… there was very little aroma in the cup.  It's not fragrant enough to be an oolong tea, I think, and still retains a good bit of bitterness.
A little odd, I think, but ultimately, I think I will go back and buy a few more given the price and the quality.  I don't think I can really pick out any problems with the tea, which is sort of a rare thing.  Other than the smoke, which I'm sure will go away (the sample I tried at the store, which has been stored in the open, wasn't really smokey at all), I don't think there was anything else wrong with the tea.
I guess only time will tell…
Some wet leaves for you to look at