I have in my hands two maocha from Banzhang, one from fall of last year, and one fresh picked from the mountains this year. I thought it will be interesting to drink them side by side
When I opened up the bags and took them out, I was slightly surprised by the colour difference between the two. The darker, redder one is the fall 2006, while the spring is the greener one on the right. The colour difference is only a shade or two, but it's noticeable.
It's even more obvious when they are wet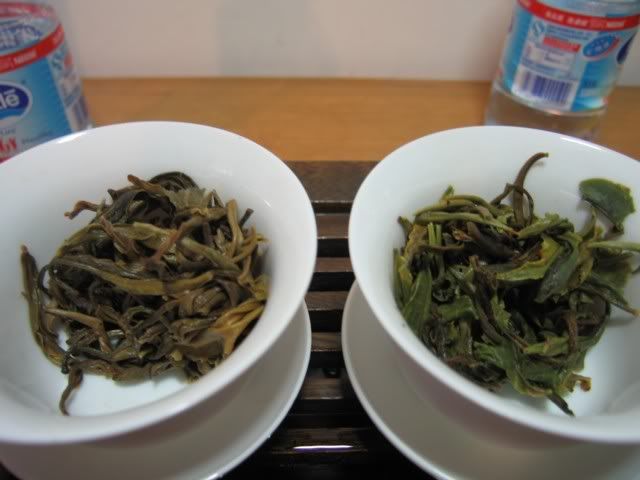 The Fall 2006 on the left tastes like a Banzhang I normally know… somewhat bitter, with a characters strong taste but turns a little sweet in the finish. It's a penetrating tea, and quite thick and nice. There's a hint of smoke in there too, but not too strong. The Spring 2007, on the other hand, was surprisingly floral. It reminded me of one of those light dancongs out there — there's a definite connection, with hints of grass and some high floral notes that I only usually expect in a very light oolong. I suspect this tea, inadverdently or not, was oxidized a bit before kill green. It sometimes happen deliberately, but can also be the case of just the tea farmers needing some time to reach their home and light the fire to do the kill green. Either way… it was an interesting contrast. The two teas don't really share a lot of common notes, except in the finish… a bitter turning sweet, your classic huigan. Even then, the affinity is pretty remote.
The liquor is not as different visually as the leaves:
The Fall is only slightly darker in colour throughout the session, with the spring taking on a more vegetal green hue.
The wet leaves:
Should be pretty obvious which pile is which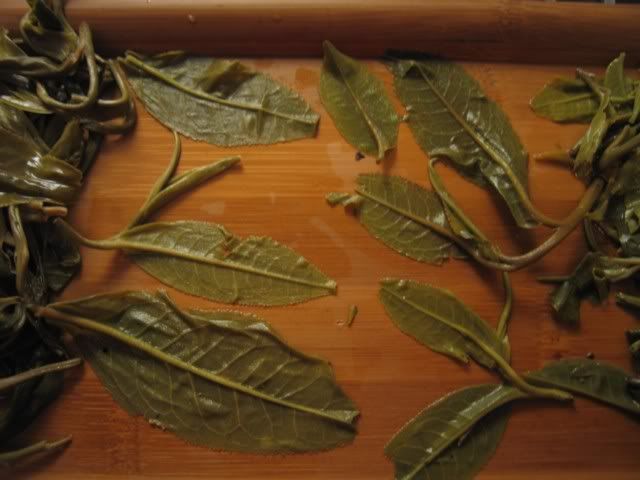 Leaves sizes are different, with fall being obviously bigger and the spring more tender. There's a sort of thinness in the spring tea, for some reason. I don't know if it's overpicking, or if it's just young buds/leaves being smaller/thinner in general. I suspect it could be a bit of both.
Banzhang is still not really my cup of tea, especially given the prices, but I can see how in 5-6 years this tea might turn into something more to my taste. Right now… I'll go for a Yiwu for sure, which is only selling at one third the price of a Banzhang anyway. Prices are just sky high.