More traditionally stored broken bits today
This one is, curiously, called Zhengshan by the teashop that sold it to me. It's pretty cheap. It's obviously traditionally stored, in Hong Kong, and broken up a while ago. I don't really understand the name Zhengshan. Zhengshan, in the context of puerh, means that it is of a certain mountain proper. So, a Yiwu Zhengshan (anybody who's shopped around should've seen this phrase at some point) means "Yiwu Mountain Proper". It's an advertising slogan, basically, for anybody selling tea that purports to be from one region. It's an assurance that the tea is, indeed, coming from the proper mountain that is being named, and not some surrounding regions or mixed with stuff, etc
Just on its own, however, Zhengshan doesn't really seem to make much sense. I didn't ask the owner what he meant. Maybe there's something obvious I'm not getting. I don't know.
I don't know where this tea came from. I think this is some standard factory issue from the 90s. It's quite compressed. The tea brews a nice red liquor: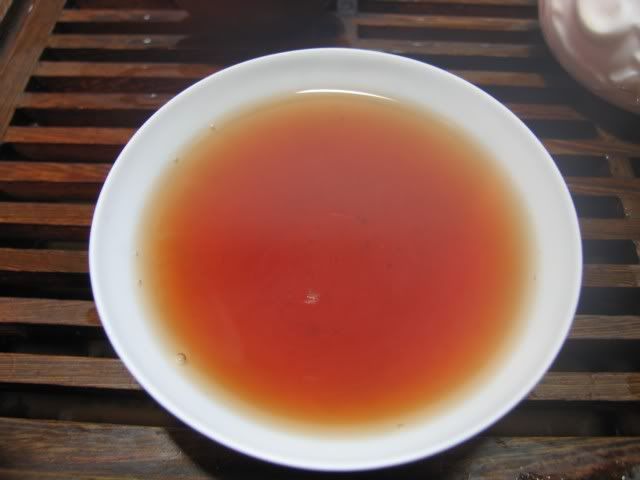 Mind you, this is a bit lighter than usual because I changed cups. I bought a new cup a few days ago at Maliandao
It's one of those flat, big cups. The thing is almost two inches in diameter. It will make the tea look lighter in colour than it would with a more normal cup. For example, a few infusions later I took a shot of the fairness cup:
Much darker. Pouring out, however, the tea still looks red.
The tea is very smooth, with a silky texture and a slightly creamy taste. It's got a hint of bitterness still, more obvious when drunk cool. Camphor is the most prominent aroma. It does hit the back of your mouth a bit, but it's not a very good tea that hits you with a strong but subtle impact. Instead, it's a mellow and relaxing drink, doesn't really excite you, but delivers the goods as it should. After a few days of some pretty green puerh, it's a nice change of pace. I can really only take so much young stuff before feeling the effects on my body. Drinking this sort of thing is easy on the body, and not too demanding in brewing technique. You can just focus on drinking.
I should've bought more of it when I was in Hong Kong. It's very different from the Guangyungong bits. This tea is obviously younger. It's got more strength and punch than the GYG, which is now very mellow and sweet. There is another sample of even younger stuff, but I find that to be a little too young to taste good now. It's some Jiangcheng brick, about 10 years old. They all have the advantage of being very cheap though.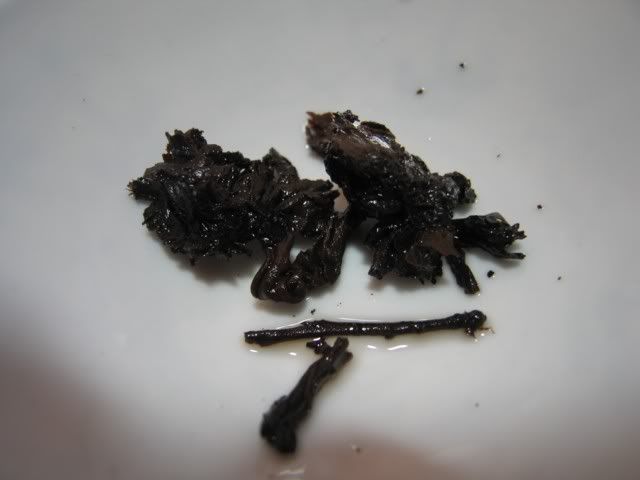 It's still brewing. I just pulled out some leaves to take a shot of it. It's very tight still — I had to stab this piece to break it into twos when I took it out. Whatever this Zhengshan is, it's pretty decent.