I tried the new shuixian I bought recently against an older one that I had.
One of them is 4x the price of the other. Any guesses?
I used 3.5g for each side to ensure consistency in the amount of leaves. The teas brewed a very similar colour — the right side being slightly, ever so slightly, darker. It's difficult to tell.
First infusion

Third or fourth infusion? Something like that

This is how they look when wet and done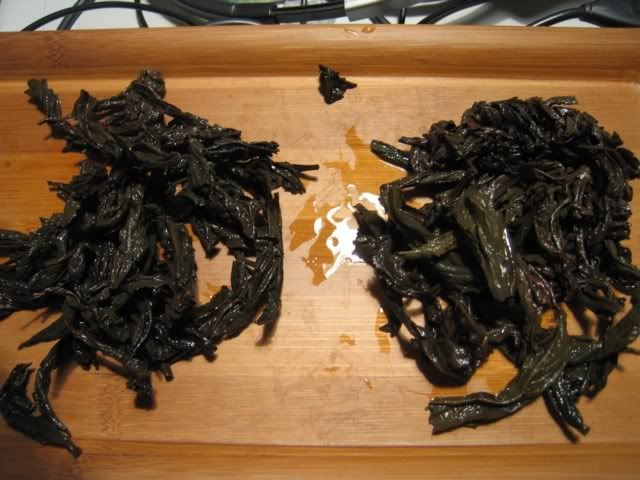 The left side is the newer one that I got, while the right is the older one that I already had (but I'm only opening the right side for the first time). The flavours… the left side clearly has a bit more roasted character than the right, and you can taste a bit of the roasted charcoal sort of flavour in the left sample, while the right one, though roasted some, doesn't have that charcoal sort of taste. The left was clearly superior though, with a deeper character that penetrates down to the throat and leaving an obvious and immediate "rock aftertaste". The right sample, while giving you some of that "rock aftertaste", is weak in comparison. This was especially evident after around four infusions, where the left sample was still going strong while the right, tasted against the left, feels watery and bland.
The wet leaves show that the left side is somehow more rolled and maintains its rolled character, while the right side leaves unfurled more quickly. Upon closer inspection, the right sample seems to have mixed in it a few different kinds of teas, some more roasted, some less, and it's the less roasted stuff that unfurl more easily. The more roasted ones, with those goosebump filled leaves, stay in their shape for longer. The left sample, being uniformly more roasted, stayed that way more or less over the infusions.
I don't think the difference in taste is entirely attributable to roasting levels, and has instead something to do with the basic character and quality of the tea. The tea on the left was simply better, with that sort of aftertaste and depth that the right sample doesn't match. Thankfully (or not…), it's also the one that costs more.