Ok, so here are some pictures now that I'm sort of done with the tea, although I'm still brewing yet another infusion in my pot.
These are broken pieces of Guangyungong cakes that I bought in Hong Kong. I find them rather good and tasty, and as is obvious, long lasting.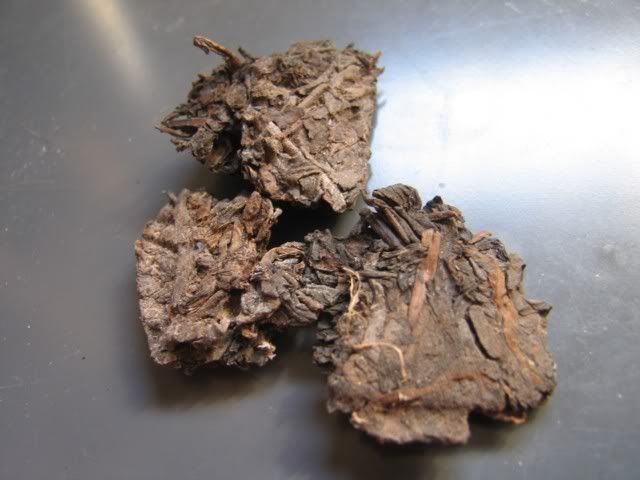 You can see that it hasn't been stored very well. There is obvious evidence of wetness.
I've got more of them… all in pieces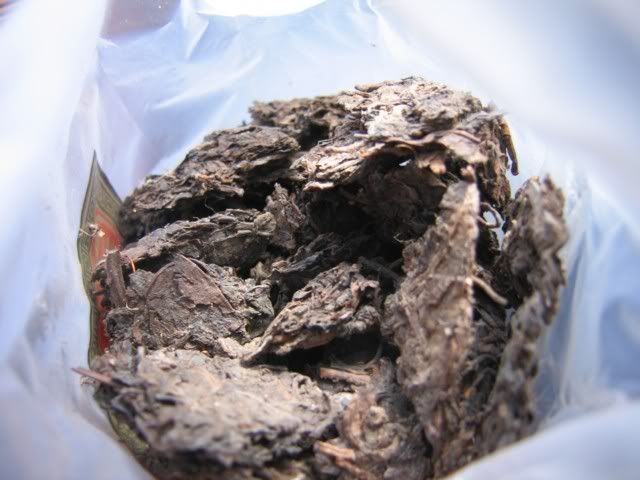 The tea is very sweet and smooth and mellow. The owner of the store said that it's just broken cakes, because in storage you inevitably end up with cakes that don't survive. Since part of the process of storage is that you have to move the goods every few months to prevent mould from developing, the movement, etc will always cause some breakage. That's the stuff you sell in jars.
This is the first infusion:

A few infusions later:

A day and half later:

At this point I ought to be boiling the leaves in water, but I have no such implements, so keep rebrewing will have to do.
The tea is woody up front, with a good sweet taste throughout, and a bit of a cooling effect down the throat. The woody/musty taste dies after 5-6 infusions, leaving only sweet tea taste, but that lingers on and on forever. It's really quite nice to drink 🙂
The wet leaves are rather dark, and I will take a better shot of them spread out once I feel like having finished with them. For now…
This is taken with natural sunlight.