This is my first young puerh cake… or is it puerh? I think it is, or will be, anyway.
Last time I tried this was a year ago. I haven't touched it since. When I bought it from Kung Fung Yung I knew nothing about puerh, and I was attracted by the way this tasted and thought this will be good. I wasn't thinking about aging so much as just buying it for the novelty value. I certainly overpaid for it…
Anyway, here's the cake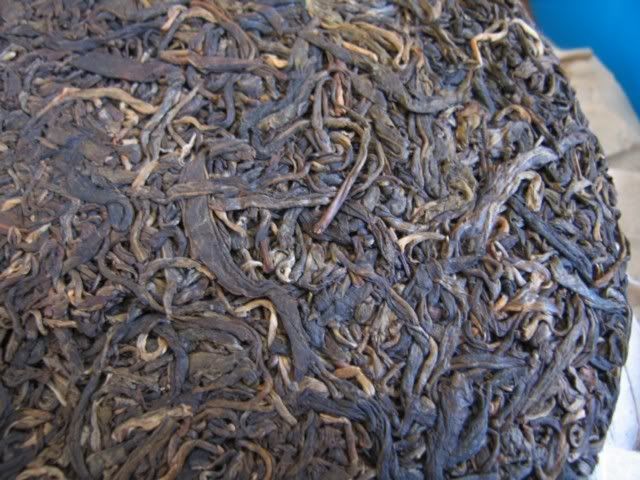 You can see this cake consists of mostly small buds and leaves.
I peeled some teas off and put enough in a gaiwan to make a good cup
The resulting liquor in different infusions
1st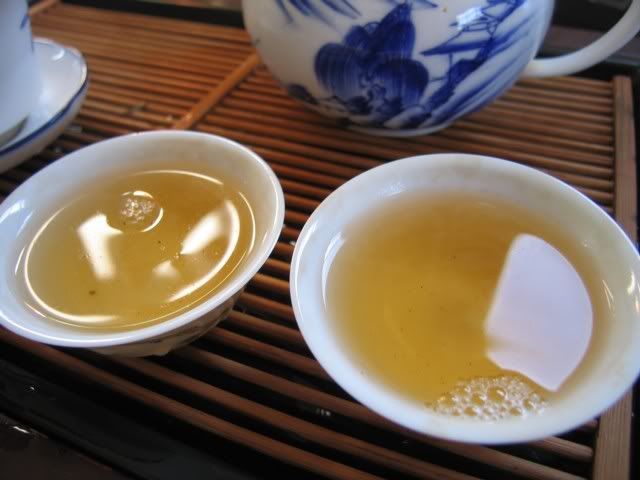 3rd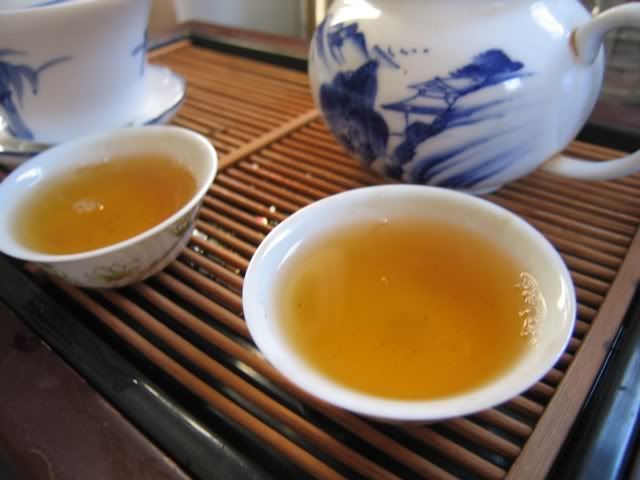 14th

The tea is rather interesting to taste again after having been away from it for a year. The colour of the cake has darkened a little, as has the colour of the liquor as I remember it. The taste has most definitely changed a bit though — it has developed a more fruity aroma, whereas I remember it last time as being a bit more on the green tea side of things. There is a plum/berry like taste, which is what reminds me of the XZH 97 Yiwu cake — only this tea is from 2003. The profile, however, seems to be moving that way. I certainly don't know how this will age in another 5 years, but right now…. that's what I think of when I am drinking it.
The tea is very smooth for a young puerh, with very little of the roughness but still being thick instead of thin. It develops a good aftertaste, although not obviously strong, with some reasonable cha qi. I would think the overall profile of the tea pins it somewhere in the six famous tea mountains, but the smaller leaves might put it in a place like Yibang, where leaves are generally smaller, than a place like Yiwu, where the leaves are big. Either way though, this has to be a spring tea, given the size of the leaves…
That's my phone in the bottom for scale. I think given the sizes, in the 1-10 scale it is probably a grade 3 tea, mostly. A closeup…
When I go back to Taiwan later in the year, I'll definitely go back to this store and try it there and see how theirs might taste different, given different aging environment. I don't think I'll buy another one, as it's expensive for what it is, but it's certainly instructive to try this tea.