I went to the old, wet storage tea store today to pick up the tong of tea I ordered back in the summer. Now that I think about it, I'm overpaying them for it. However, a search through Taobao showed that nobody sells this tea. There's one item that's similar, but it's not the same thing.
I only have a vague memory of the tea I tried. I remember it being somewhat bitter, and quite "strong". Mainly, I bought it because I want to see what these people pick as a good young puerh (since this is the ONLY young puerh they sell). I think I might just leave it in the tong here and let it sit in Hong Kong. It can use some moisture to age.
I also bought a little of this:
Some wet stored loose puerh (raw), packed in a pretty little bag…. kinda retro
Below the Chinese name of the company, it's written on the leaf that this place is a "hub for famous teas". They sell mostly wet stored stuff. Quite a cute place though. I might go back and see if I can find a cake or two of wet stored cooked pu and try it, and maybe take a pic or two of the place itself.
I made my tea:
Mellow, sweet, definitely raw tasting, although somewhat flat as the storage was pretty wet, I think. It's not nasty though, just flat. I made many infusions, although since I was adding water when it reaches about 40% full, I don't know how many infusions I can actually count. For the price (40 USD for 600g) it's not too bad. I'd drink this regularly over a very young cake. It's probably better for my body.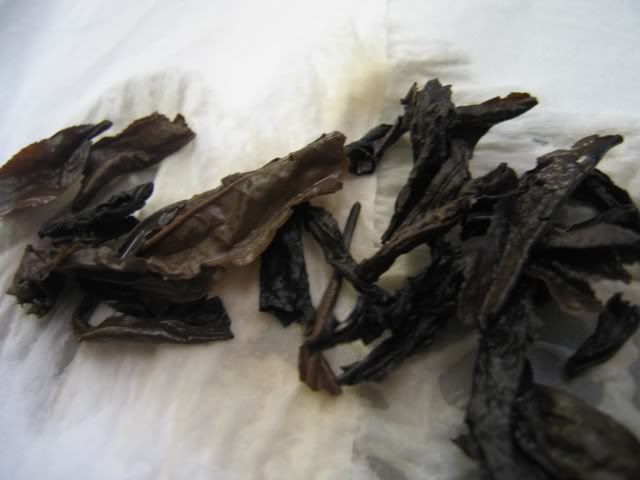 Some of the leaves… you can see how some are browner, while others are blacker (and stiffer). Did I say wet storage?