When I was rearranging my very messy tea cupboard in anticipation of ZH's visit, I found something that I totally forgot about — a small bag of loose puerh from Jabbok Teahouse that I bought when I was in HK over the summer. That's what I had today.
Jabbok claimed that this loose tea was 30 years old, just like the Best Tea House stuff. I remember I had a try at their store, and didn't think that it was quite that old. I remember it being a bit on the light side, flavour wise. I got basically the bottom of the pile — it was about the last bit that they had that I took. In total, it was something like 30-50g of tea, not a lot.
This is how it looks. Doesn't look too old, does it?
So, I went through the usual motions and brewed it up… the first infusion looks weak. It's an orangy red, not too exciting…. gulp… the tea is perfumy. Very perfumy. Incredibly perfumy. I don't quite know what to make of this taste. I think Phyll said before that this is what he describes as talcum powder… a woman's makeup… that sort of perfume smell. The aroma is wonderful. If I had a hint of this in other teas, this is the perfect sample of talcum powder taste in tea, I think. The brew is quite thin, actually, very slightly drying, not a whole lot of huigan, but a lot of coolness and mintiness. The "throat-feel" is very strong and immediate. There's a hint of the spicy aged taste in the back of the talcum aroma — you can detect it when the talcum fades away, but it's not very obvious. This tea is pretty good stuff.
I drank infusion after infusion of it. The tea stays more or less the same throughout, without much variation. They say that's one problem with loose tea versus cake — that loose teas tend to be more uniform and less complex than compressed tea, but at the same time, they age faster — which is why i didn't believe the claim of 30 years. Nevertheless though, the aroma of the tea is so delightful, it makes up for the problems, such as the thinness.
Infusion 2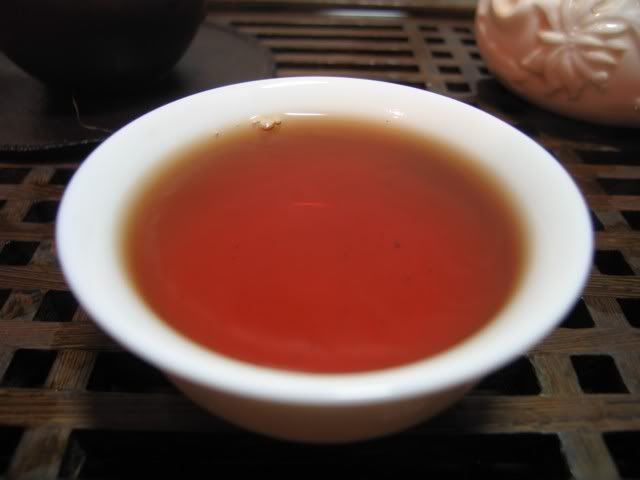 Infusion 7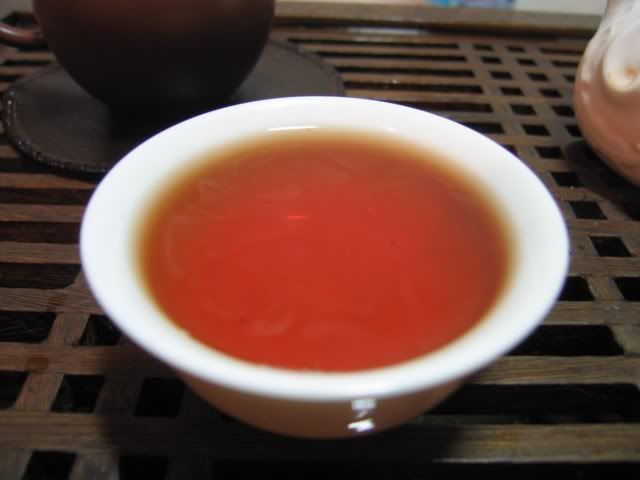 Infusion 12 — I think?

It lasted about 14-15 infusions before I gave up on it.
The leaves, after they are brewed, look thin. Lots of stems, with some whole leaves to boot, but on the whole they feel flimsy and don't open without breaking seriously. There's considerably rolling that took place when the tea was processed. It seems like nowadays puerh tend to be rolled less. I'm not sure if that's a good thing. You can also see the rolling in the dry leaves picutre — they look almost like Wuyi teas, if you just take a glance at it. These days, loose puerh tend to show a much more big leaf look.
One very big leaf

Some of the leaves don't look quite like Yunnan big leaf tea. I'm no expert on this and can't tell, but they don't feel like the usual stuff. I wonder if there are other varietals mixed in this, which gave it the unique flavour. Whatever it was, it was pretty interesting.
Tomorrow's my weekly trip to Maliandao 🙂