I went back to Maliandao today, mainly to get this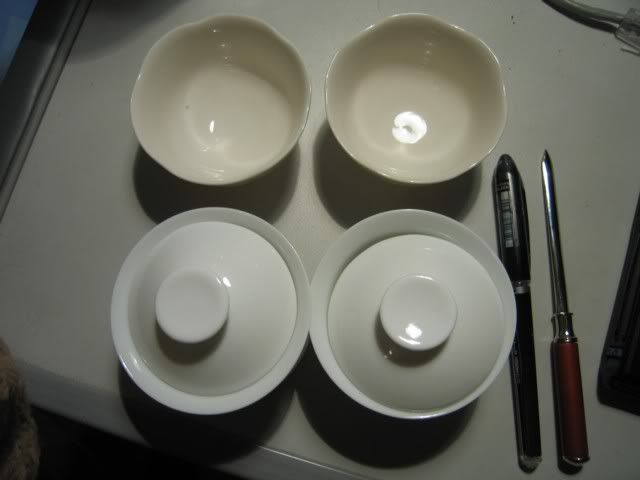 Two sets of idential teaware, tiny gaiwans with cups that are big enough to take one infusion. This is so that I can conduct taste tests of two things against each other without overdosing myself on tea. Ideally, I should also have an electronic scale, but I didn't get one today :(. It's good enough anyway…. for now. I also got the puerh knife on the right. I never had one.
Then I stopped at a puerh store, and got stuck there.
The owner is quite a character, a Northeast China guy who went to Yunnan some years ago (probably got sent there during the Cultural Revolution) and stayed there for quite a while, and started dabbling in the tea business more than a decade ago, so he claims. A chain smoker who probably goes through at least two packs a day, he was pretty excited to have someone to babble to, i.e. me, and I stayed there for something like three hours.
When I walked in, there were already two customers there. They bought 1200 RMB worth of goods (two cooked bricks, and two raw cakes), which will come out to…. something like 300 RMB a piece. I honestly don't think any of those things are worth that much. They got screwed, especially on the raw cakes which are worth at best 100 RMB a piece. But these are the people keeping all the businesses on Maliandao alive, I suppose.
The raw cake they had, I also tried ,and I thought it was not very good. It claims to be Yiwu, but it can't be. I then tried another much better looking (and tasting) cake, but it's also not pure Yiwu. I didn't even ask for a quote — it's not bad, but not that great. I can find much better stuff, so why bother with this?
The cooked brick, however…. is quite interesting. I ended up with one at home. I think I paid a little too much, but it's 1kg, and per gram, it's very cheap for what it's worth. Since I never buy cooked puerh, I think it says something about this brick 🙂
It's got none of the nasty cooked taste. Instead, the taste is an overwhelmingly sweet, mellow, and with a dry date aroma that I really liked. I figured it's not a bad thing to drink when I feel like something more mellow. It looks quite nasty in appearance, but what the heck…..
So that was my afternoon at Maliandao. I didn't even make it to one store that I wanted to go. Oh well, there's always next time.