Today I drank the pieces I broke off yesterday from the cheap brick that I got in Hong Kong: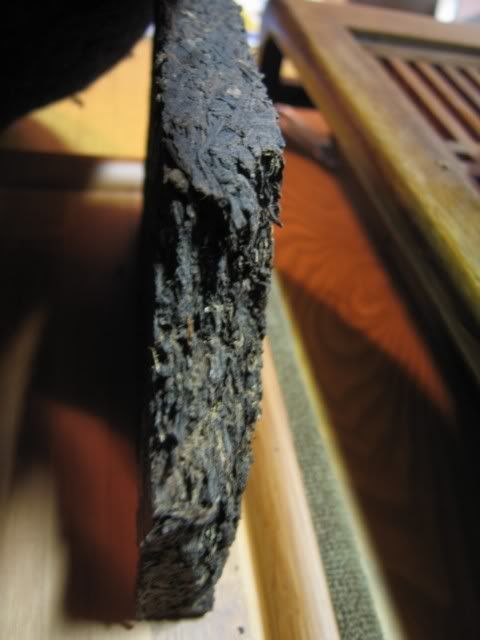 The pieces in question:

I realize that now that I have a scale … I am actually using less leaves. I never realized that sometimes I was putting upwards of 10g in my teapots/gaiwans. I ended up with about 7g of tea in my puerh pot.
Anyway, so I brewed it, but this time without the two long washes that I subjected it to last few times I made this tea. I originally did it because I was worried about my health (the tea looks a little nasty, with little white bugs on it). Now that I've been airing them out for close to 4 months here in this rather dry weather (I've kept it out of the tea closet, figuring this is better to get rid of the off taste/smell), I feel more confident with the tea.
This time the off taste is basically gone. Whereas the first infusion when I first tried it was a slightly odd, and uncomfortable, aroma of something sort of medicinal, now it is a more orthodox "somewhat aged" puerh taste. There's still something off about it though… but the tea goes down smoothly and nicely enough. It's very soothing for the throat… doesn't feel dry at all, and there's a sense of coolness that I like that extends down the throat. This is mainly the reason why I bought the tea to begin with.
Looking at the leaves… I think I am learning a little more about the particular variety of tastes in this tea
Look at them…. tell me what's wrong
Some closeups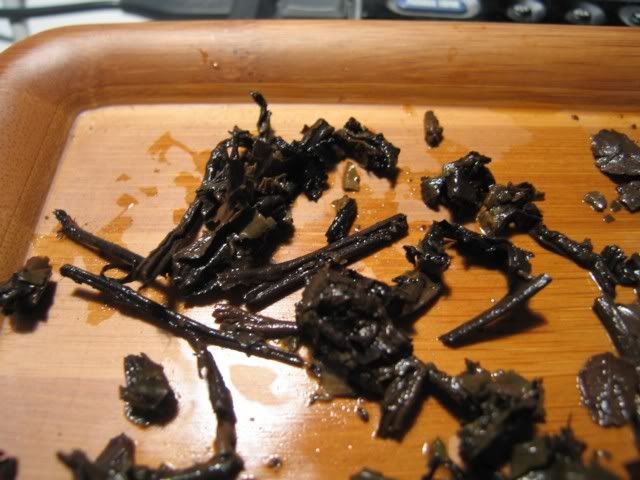 Basically…. I think the tea is a raw/cooked mix. The picture of the pile of stuff in a corner are the big, beefy leaves that look like this when unfurled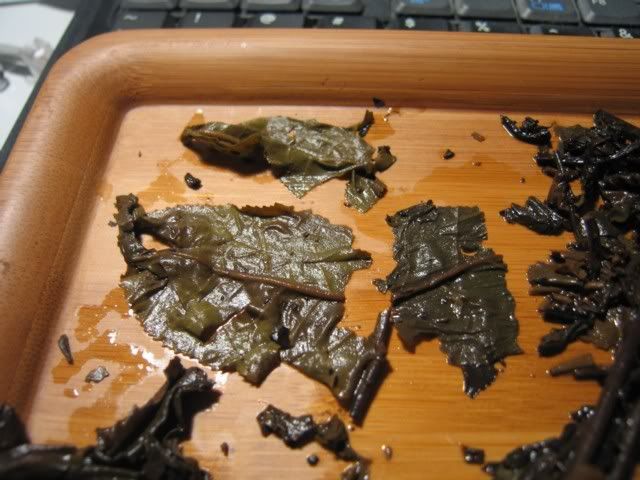 And then you have the other stuff… skinny, black, dried up looking things, that disintegrate when touched. I don't think it's bad storage, but rather, I think it's just cooked puerh. This might explain the slightly odd mix of tastes. There's that nice sweet, mellow, smooth nature of cooked puerh in the back, coupled with the punch of the raw. The cooling sensation produced by this tea cannot be a product of cooked stuff. The leaves also are not, mostly, cooked leaves. There are, however, a scattering of the black pieces that fall apart when I try to unfold them. If the tea is uniformly like that, then I'd say it's probably bad storage, but it's not… some of the leaves are incredibly green (as you can see) and a lot of it are brown…. I think it's just a mix.
It might also be the case that this tea is recompresed maocha mixed in with cooked puerh. The bad thing is that this is probably done to cheat people (i.e. saying this is well aged tea). The raw leaves have some years, as most of them are some shade of brown. But it's not all old… but then, maybe the stuff that are more green are the ones in the middle of this very tightly compressed brick, and thus having had less aging done to them?
I really don't know, and it's a bit of a mystery — a mystery that I can't pinpoint for certain beyond what I've just said. However, I enjoy drinking it, and I think it will get better with age. After all, one of the favourite puerhs I've tasted… the Zhongcha Simplified Character from YP, is a cooked/raw mix. That one is very good……