Today I drank a rather odd tea. This is a sample I just bought from an online vendor in China. Paying for stuff online here involves going to the bank and putting the money directly in that person's account, unless you use Alipay, which is sort of like paypal, except more complicated (involving them holding the money for you, you get the goods, and then Alipay will release the cash to the seller once you give the ok — to avoid frauds). So, needless to say, I went through a bit of trouble to get this sample.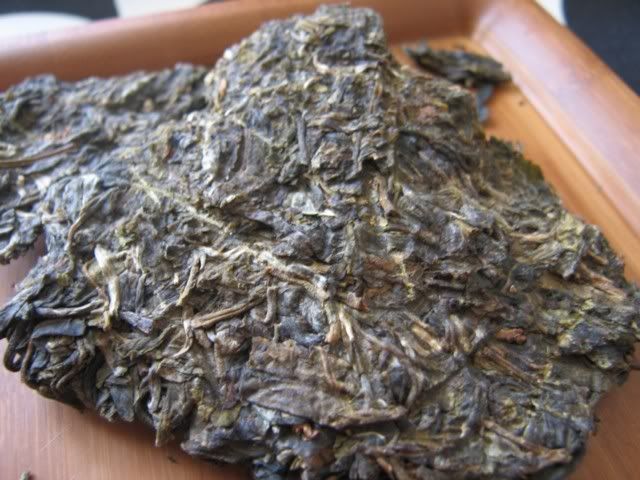 This is a small production cake, and the brand is called "12 gentlemen" 十二先生. This is supposed to be a semi-wild Yiwu tea from 2006 Spring. It got some decent reviews on Sanzui, so I figured I'd give it a go, since I've been sort of on a Yiwu binge these days.
The cake is a little more tightly compressed than I imagined. The leaves don't look THAT nice. But looks area always deceiving, so I broke off a few pieces and then proceed to brew the tea…
I decided to do 30s infusions early on to see how the tea turns out, and to also standardize the way I taste test teas. The first infusion…. gulp…. tasted like green tea. I was rather surprised to find that, but it reminded me of green tea of all things. I don't know what kind of green tea exactly, but it's probably closer to Biluochun than anything else.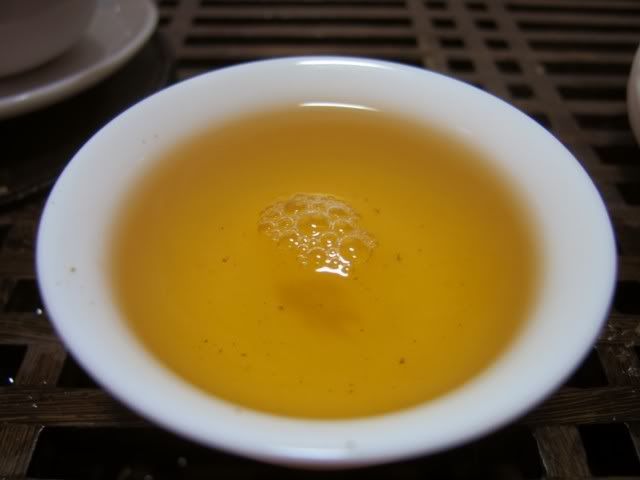 The tea brews yellowish liquor. It's a bit bitter and a bit tannic… just like a green tea. I was a little stunned. While I didn't exactly pay a lot for it, I guess my expectations were high. I thought maybe I got a fake tea.
Two more infusions, still green tea taste. I was going to give up, then I decided to keep brewing it…
And somehow, the Yiwu taste showed up at around infusion 5-6. I don't know how, or why, but it did. The Yiwu taste got gradually stronger, and actually I had a very pleasant throat sensation and a Yiwu taste with nice huigan and what not in the later infusions. HOWEVER, the green tea taste bugs me. It's entirely possible, given that green teas die after a few infusions, that after the first few infusion of the green teas mixed into this cake, I started getting the genuine Yiwu taste, so maybe this cake is a mix of two kinds of leaves — high temperature processed leaves, and Yiwu big tree tea done the traditional way. It would make the most sense if this is what happened.
How will this age?
I have no idea.
The leaves are a bit broken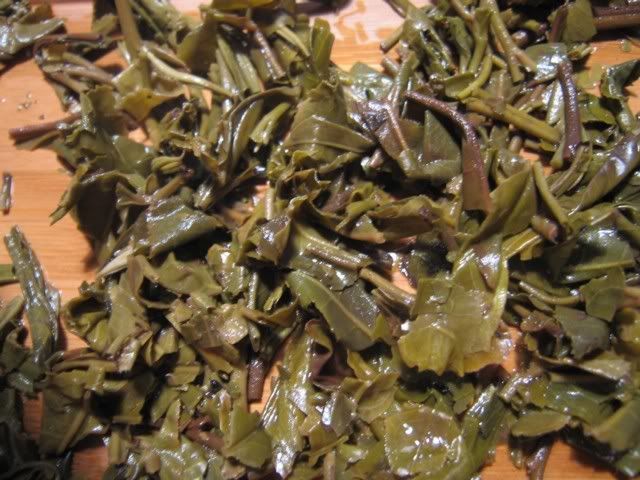 But that could partly be the way it was broken up when I got it.
Anyway…. the price is not low for this cake, and I'm not sure if I should buy one, as an education piece if nothing else, or if I should just forget it…