I realized I've had puerh for many days in a row now, so today I opted for something else. I got a small packet of tieguanyin from the guy who sold me two cakes of those ok Yiwu. He claimed they are from 1992, aged, but selling for a ridiculously cheap price. I asked for a sample to bring home to brew myself, and he gave me some (along with the maocha I brewed up yesterday).
The dried leaves… look like medium to low grade tea from way back when, lightly rolled, not tight like they make them now (thanks to those Taiwanese). Looks good enough. Let's see how it brews up.
Yum
Sip….. wow…… it's sour. It's really sour. It's so sour. Wow. Hmmm
Another infusion…. still really sour.
One more, with me having taken some leaves out….. still sour.
The rest got thrown into the garbage, but not before I took some pics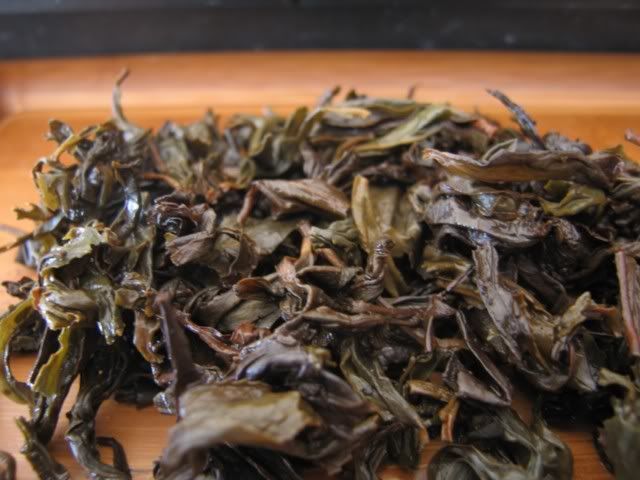 The leaves felt a bit rough and stiff, almost plasticky. Other than sourness, the tea did have a nice aged taste to it that I recognize from other well aged oolongs, but the sourness was all pervasive. It was really, really sour. Tasted like Chenpi, the aged Chinese mandarin skin. You're supposed to get that taste in an old oolong … but only the aroma and not the sourness. Sourness is a no no.
I drank my usual tieguanyin (the medium fired one) to wash out the taste after this.