One of the problems with a puerh addiction is that you are usually acquiring way more tea than you can ever consume. One cake of puerh is 357g. Say you use 10g for an infusion, which is a lot, you still have 35 infusions in one cake. For me, that's at least a month's drinking. 7 cakes is about 8 months of nonstop drinking of that particular cake. In fact, one tong of tea is probably something like a year's supply. This means I already have a few years' worth of tea sitting around.
And all the time, I am getting samples, lone cakes, etc, and the supply just keeps adding up. When will I ever drink it all? I need to put a stop to all this… but there's always that "oh, just this one more" temptation.
Anyway, the reason I said all this is because today I drank another of the samples YP gave me. The samples she gave me alone is like a week and half worth of tea, total, so….
This is the sample in question today
It's the shiniest thing ever. BBB saw it and commented that it is more shiny than any other puerh he's seen. I agree. I have some trouble with white balance for the camera, because one of the lights is a regular tungsten light, while the other is a flourescent. That's why you see the reddish tint in the back.
The tea…. is not to my liking. Initially, in the first few infusions, there's a nice aroma, and also a bit of the cooling that happens. Yet, after about 2-3 infusions, the tea turns bitter. It's quite bitter, and the bitter does not produce a noticeable huigan. It got quite nasty, actually, near the end. The tea sort of progressively got worse. I wonder why that is. I think this might be a tea that is processed at too high a temperature, producing, initially, a nice aroma and sweetness and all that, but over time, it degenerates into bad flavours like bitterness.
Looks quite nice, a bit reddish in the liquor.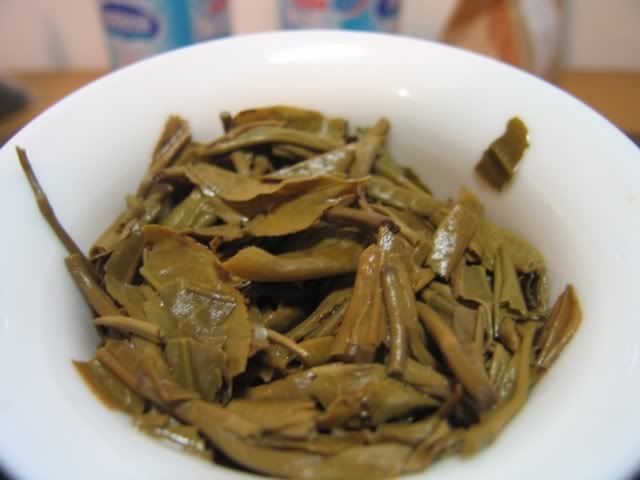 Doesn't this look like green tea?
Anyway, tells me one thing — don't buy silver bud cakes, or if I do, don't age them. I have one sitting at home, I should probably drink it up.