Tea comes in many different sizes — you can buy them in bag form, in boxes, in tins, and compressed.  There are the easy to distinguish sizes that are pretty common for everything we buy — 100g, 50g, 3oz, 4 liang, a jin.  Then there are the ones that are less common, and is sometimes more troublesome when dealing with them – gram incrementals, 7g packs, 25g samples.  None, however, have ever come in this format before
Yup — a minibing of extremely mini proportions.  These are 6g cakes of a certain tea whose producer I bought from through Taobao.  When I saw them thrown into my Taobao order, I was positively amused.  After all, it's actually a pretty good idea, but one that has never occurred to me (and as far as I can tell, anyone else).  Usually, when you buy samples, the vendor chips a little block off the cake and send it to you.  Not here, no.  These vendors know you want a sample, and so they pre-pressed them into sample sizes.  They are so prepared, in fact, they even printed mini wrappers, with the date of production, 2009 March, stamped on the back.  Talk about thinking ahead.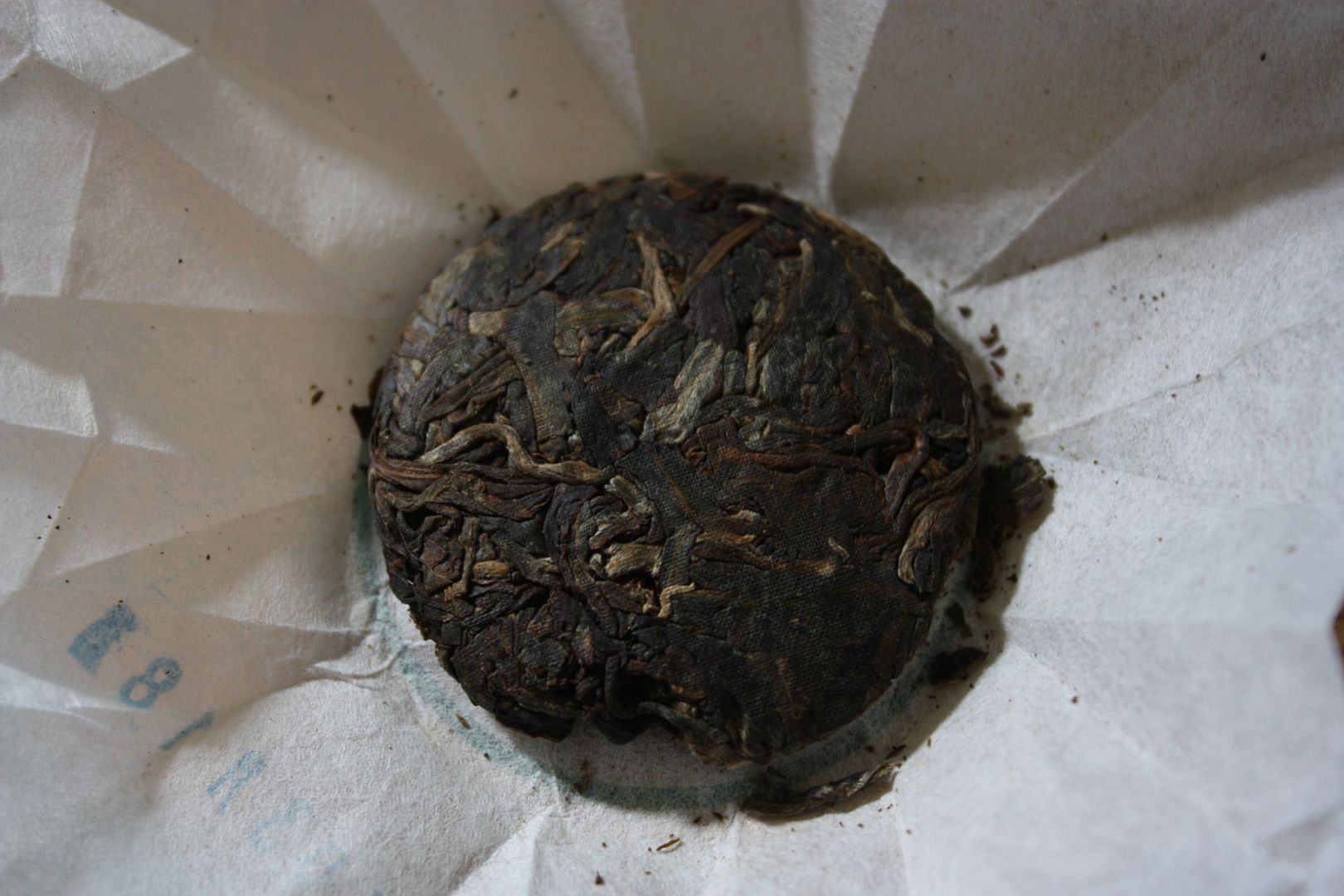 I think these cakes are definitely a nice idea in terms of getting your tea out and giving them some attention.  At the same time though, they are slightly annoying.  I generally don't like pre-determined portion sizes when it comes to tea.  The reason is that the amount of leaves used in any particular session has a huge influence on how you perceive the tea, and you have no idea how much tea leaves you need until you know what vessel you're using to brew it.  Brewing tea in a 300ml pot is very different from brewing it in a 60ml gaiwan, but both are equally appropriate for somebody out there who considers drinking from such a brewing vessel a proper tea session.
This mini-minicake, for example, is really too small for my taste.  I'd like a little more tea than 6g, but at the same time, not quite as much as 12g, for my usual young puerh pot.  This is where the trouble is – if I brew apart the second cake I have, I will be left with a completely useless sample of 2-3g of tea.  If I don't, then I will drink an underpowered tea.  I could find a smaller brewing vessel, but I don't really want to use a gaiwan.  I also happen to think that brewing too little tea in too small a vessel is not always going to produce good results.  I ended up opting for just one cake, and saving the next for something else (or just to keep around for novelty value).  The tea is pleasant, but a bit bland in the cup, mostly because it is not as concentrated as I like it.
This is why I hate seeing tieguanyin or other oolongs packed into little individual packets.  While they are quite convenient to carry around, they are a pain.  I don't like 7g for my oolongs — it's always too little, but two packs is also almost always too much.  There's really no happy medium, and nobody seems to make any packets other than the standard 7g ones.  Why do it?
I think there are two reasons these are done.  One is the abovementioned convenience.  The other is really something to do with the conception that freshness is at stake.  I don't think I really buy that — unless you plan on leaving your 100g bag of tieguanyin around for years, freshness is really not that big of an issue.  Convenience, on the other hand, is, and I find myself increasingly disliking the small packets of teas despite their sometimes convenient nature.
Sample size is another issue.  25g is roughly two sittings for me, although depending on the mood, the tea, and the setting, that may vary considerably.  Of course, there's an amount at which it no longer makes any sense to call it a sample.  Leftover bits from samples is basically a fact of life — there's no way to avoid it, really, no matter the amount given.  Like division that has a remainder, it is what it is, and nothing can be done about it to get rid of the remainder, short of mixing them together to brew.   Some vendors, however, have odd sizes — 15g, for example, or even 10g.  I find those to be utterly useless, and 10g is sometimes not enough for even one sitting, depending on the tea (and the quality of the tea in question — really ground up leaves counting towards 10g is not really 10g of tea at all).  At the same time though, buying by the gram is a little odd, and not something I'm used to or prefer.  Set sizes, like 100g or 3oz, still works best for me.