Today I brewed up the cheapest aged tea from Best Tea House. These are basically mixed broken bits of cakes and loose tea. There is some cooked tea mixed in it as well, although it's predominantly sheng. They have a few grades of this stuff. The cheapest and the best mixed cakes are decent, the middle one, for some reason, sucks.
So here are the leaves. They look pretty unremarkable. When you open the bag for the first time there's that musty old puerh smell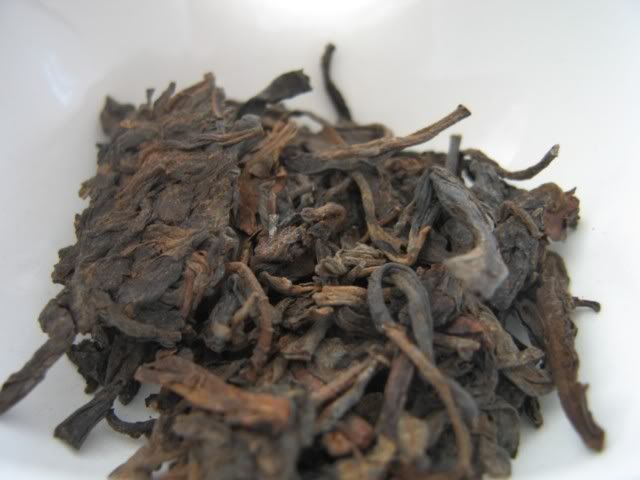 I dumped about 1/3 tea leaves in the pot and brewed it up. Oh, I like my new pot 🙂

1st infusion
The first two infusions were weaker, with the tea still getting unfurled. There's a bit of the raw puerh taste to it, although since most of the tea is aged, it's not the green taste, but rather the puerh edge that a puer cooked puerh does not have.

3rd infusion
By the 3rd infusion, the liquor gets really dark. You can smell chinese medicine in the fairness cup, although the taste of the medicine is more subdued. Not sweet yet, with a slight hint of sour on the sides. It's not the most complex of teas, but delivers what I wanted — a run of the mill, drinkable, aged puerh taste. It's probably got stuff that's been through wet storage, poorly stored, a little mouldy, some cooked puerh, all that. They blend it and make sure that the taste is fine, and the price is right. Useful for those of us who don't have big budgets to blow on dozens of aged cakes, but still want some of that taste.
Then when you proceed to about 5th infusion, the tea gets a little sweeter. I am now on about the 10th. It's still drinkable, although I should probably stop. The tea can go on some more yet, though, as the current infusions are still coming out rather brown and clear, and there's still some taste to it other than mere sweetness. Drinking by yourself, however, means drinking lots, and lots, and lots of water.

A shot of the wet leaves.
I played around with some of the leaves. Mostly raw puerh leaves, as they do unfurl and they don't simply crumble in your hands like cooked puerh would.
Tomorrow, I think I am going to treat myself and head back to Maliandao. I am going to try to look for some Wuyi tea to feed my new pot, and also some young puerh, maybe.