On Sunday I hosted a tea friend for a few drinks. We had my dancong first, which was, well, just like it usually is. Then, somewhat caffeine high already, I decided to break out something interesting — the cake I bought from Kung Fung Yung last summer in Taipei.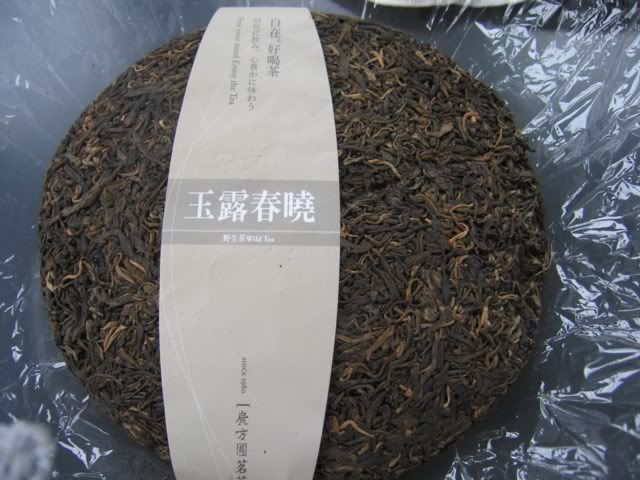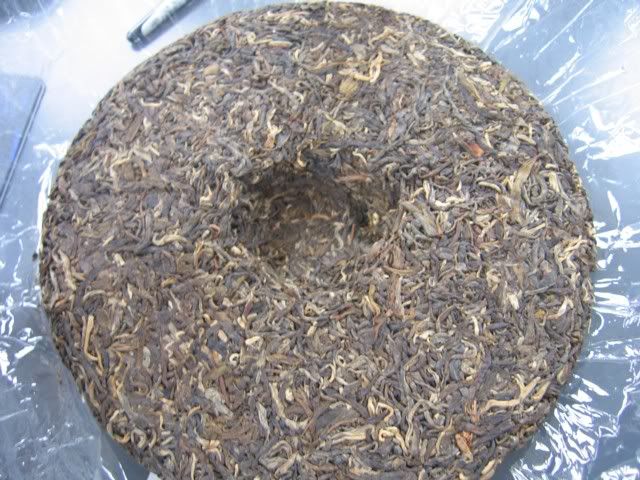 As you can see, the cake is made up of smaller leaves, although they're not all exactly buds either. They claim it is wild growth tea. Since there's no original wrapper, I will never know where they got it. It wasn't exactly cheap, but I liked the way it taste, and tasting it again this time, I remember why that was the case. The tea is very sweet, with a nice fragrance that you can smell immediately when the leaves got wet (when I poured them into the gaiwan that is freshly warmed). The tea is mellow, sweet, fragrant, and generally befits a nice, young, smaller leaf puerh. There's that typical young puerh bite to the tea — so familiar, but without the nasty, astringent, sour, smoky flavours. It lasted something like 10 infusions, from not much tea:
Which means, from conventional wisdom, that it isn't ideal for aging.
How will it age? I have no way to tell, really. I do seem to remember it being a little greener when I tried it in Taiwan, but that can be memory playing a trick on me. The leaves do look a little redder, but it doesn't necessarily translate into different taste. Is it worth the money? Probably not, but at the same time, it is a good refresher for me before I embark on my trip to China. I will need to store this up in my memory bank so that when I do go puerh shopping, I have this, among other things, to reference myself.